Born and raised in the South Side of Syracuse, Rahzie Seals experienced police brutality as a young adult even though her father worked with the Syracuse Police Department. As a woman in the LGBT community and an activist for Black Lives Matter, Seals is running as a candidate for city council in order to bring support back to the South Side and achieve due process for members of the Syracuse community who are victims of injustice and racial discrimination.
From dad to daughter, cop to activist
Rahzie Seals seeks office as an advocate for Black Lives Matter,
in the footsteps of a father who was a 30-year cop in Syracuse


written by:
Samantha Mendoza


photography by:
Frankie Prijatel
ALSO FIND:
> Seals' platform for office
> Local incidents BLM is protesting
Rahzie Seals' path in life may seem a little untraditional, or at the very least, unexpected. The daughter of renowned local police officer Thomas Seals, who served as an officer with the Syracuse Police Department for 30 years, is now a leading organizer for the local Black Lives Matter movement. To many, this may seem counterintuitive. But to Seals, 33, her decisions to stand against police brutality make perfect sense, even though her father once wore blue.
"People call me racist or anti-cop, and that couldn't be further from the truth," Seals said. "I want better not just for my people, but for everybody. I want justice for everyone."
"People call me racist or anti-cop, and that couldn't be further from the truth," Seals said. "I want better not just for my people, but for everybody. I want justice for everyone."
Born and raised on the South Side of Syracuse, Seals has seen all aspects of policing. Although her father showed her all of the positive sides of the force — protecting the most vulnerable, serving the community, modeling ethical behavior — her status as a minority showed her all of the negatives as well.
She has lost count, she said, of the number of times she and her friends have been racially profiled. She is tired of feeling like her skin automatically makes her a target for scrutiny or excessive force. And she still has pain in her arms, she said, after an incident a few years back when a local police officer tackled her to the ground for simply speaking calmly with him about his treatment of one of her friends.
It is this best and worst of the police force that she says inspires her to work for the betterment of her community and equality for all of its citizens. Aside from her work coordinating local Black Lives Matter protests, Seals is also an active participant in the Syracuse Peace Council and the founder of BlackCuse Pride, an organization that serves LGBTQ communities of color.
Now, she is turning her sights to city-wide reform by following in her father's footsteps — not as a police officer, but as a candidate for councilor representing the 4th District on the Syracuse Common Council, the city's governing body. Her father held the position for eight years until 2012. Rahzie Seals is running as a Green Party candidate, but said that she plans to represent the Black Lives Matter platform.
In addition to issues like job creation, wealth inequality, and equal opportunities for minorities, Seals has a number of initiatives in mind that she hopes will help the city hold police officers accountable and bridge what she perceives to be a gap between the community and the force. Her platform, Seals said, will represent everyone to create a more equal community.
"I'm not the kind of person who says, "I have an idea, and this is how it's going to be," Seals said. "I'm going out and talking to people to find out what they want."
"I'm not the kind of person who says, "I have an idea, and this is how it's going to be," Seals said. "I'm going out and talking to people to find out what they want."
Seals announced her candidacy in May, and Common Council elections will be held in November.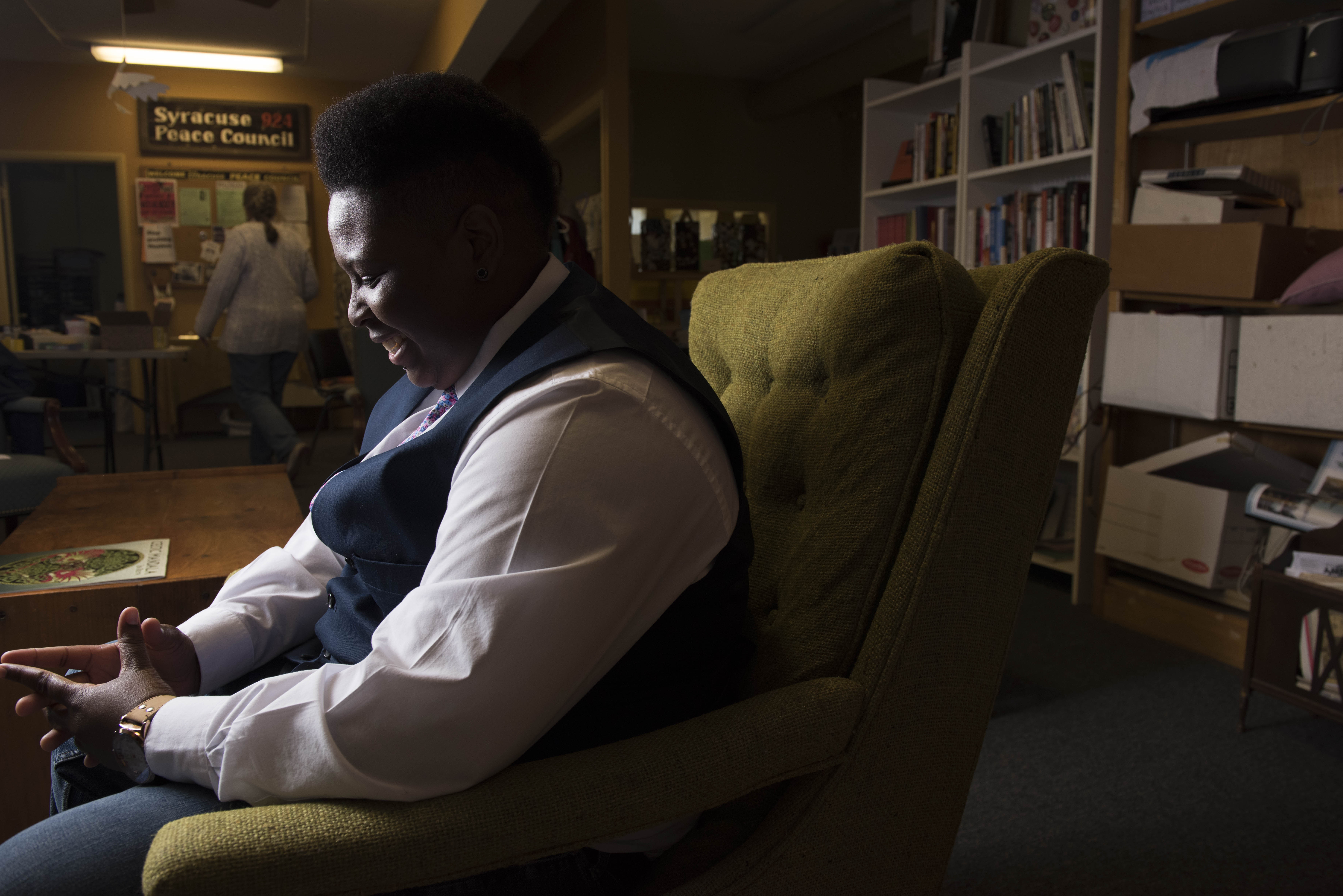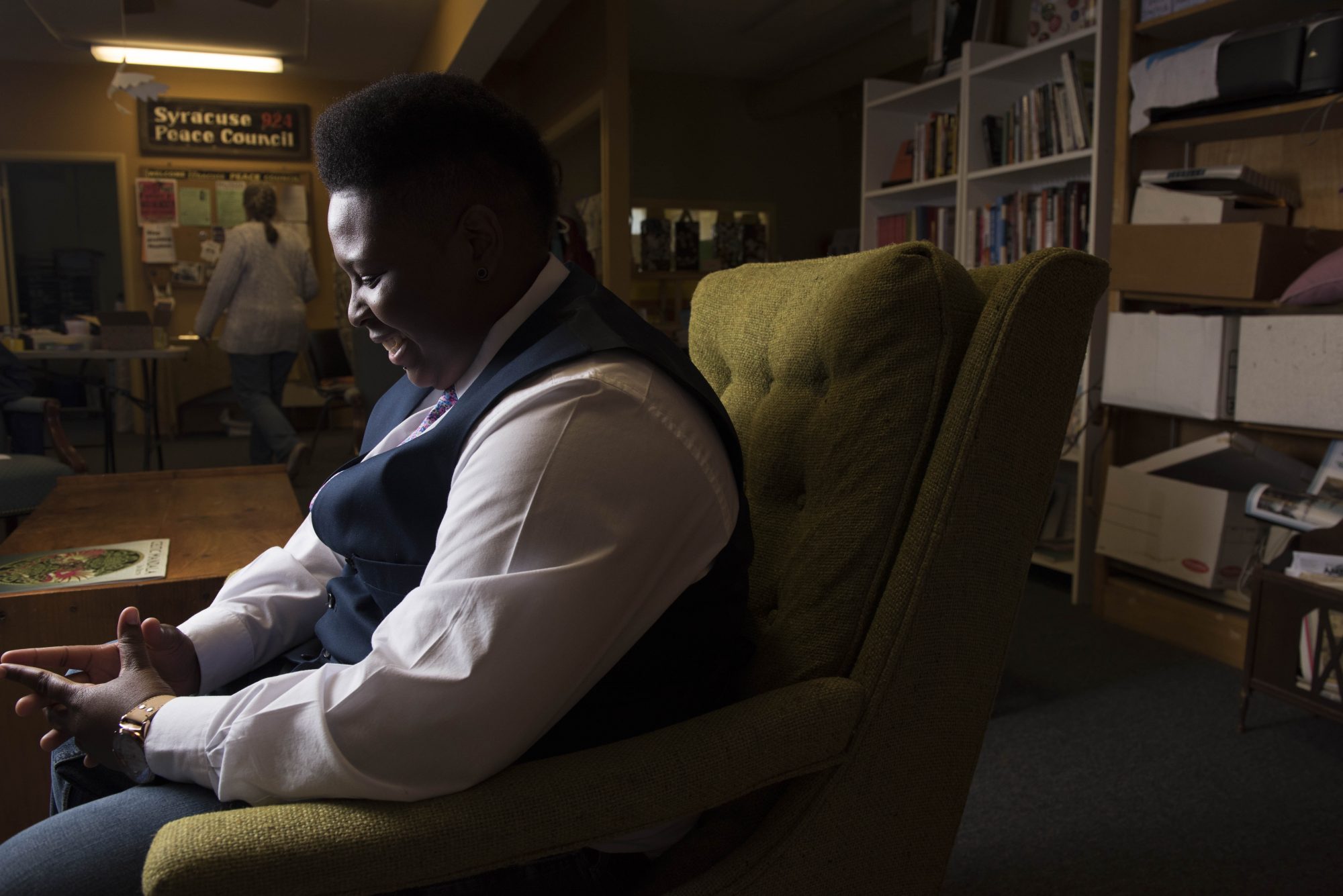 Through the Syracuse Peace Council, Rahzie Seals seeks to inspire those around her and create laughter and hope. "I didn't have the best grades in school ... so I really started to focus on my community. I have nieces, nephews, little cousins ... and it got to the point where I was thinking to myself, 'they're looking up to me. I'm a role model now, so what is it that I wanna do? Do I want to show them the right way or the wrong way?'"
Holding cops accountable: Seals' campaign platform
Rahzie Seals, a prominent local Black Lives Matter activist, has announced her candidacy to represent Syracuse's 4th District on the Common Council. If Seals is successful in her campaign and wins a seat on the council after this fall's elections, it would give her the unique opportunity to move from organizing protests against police brutality to pushing legislation with that goal. She is running as a Green Party candidate, so she can be more vocal about social justice issues.
Strengthening the Citizen Review Board
The Citizen Review Board (CRB) was established by the city of Syracuse to hold police officers accountable for their actions. Citizens can voice their complaints against local cops to the CRB. Members of the board review complaints, recommend disciplinary action to Police Chief Frank Fowler, and offer policy suggestions for the department as a whole.
According to Seals, the agency is not able to effectively hold officers accountable. She cited an incident in which an "O.G.'s Against Violence" activist, Maurice "Mo" Crawley, was tackled, jailed and charged for attempting to film an SPD officer making an arrest, but the officer wasn't charged with anything.
"What happened to the officer?" Seals said. "He's still working."
Requiring cops to live within city limits
Seals plans to work on a law that would require Syracuse police officers to live in the city that they are tasked with protecting. A 2014 report found that out of the city's 451 police officers, 92 percent lived outside of the city. That would mean that only 36 local cops were city residents.
"They don't really know the culture of the city," Seals said. "They're thinking they're cowboys who can come and do whatever they want, but they don't even know the people of the city."
Reducing police overtime pay
Seals said that she supports the Common Council's current efforts to divert funds from police overtime pay to instead cover other city-wide initiatives. Seals argues that the money saved could instead fund things like reducing poverty, creating jobs, and improving infrastructure.
The Common Council passed a budget in May that would reduce SPD overtime funding by $1 million, and spend instead on recruiting new officers. Syracuse Mayor Stephanie Miner vetoed that, but Council overrode her in May.


What they protest for
Incidents that are central to the Syracuse Black Lives Matter campaign
May 2016, Cop accused of sexually assaulting women while on the job
Syracuse police officer Chester Thompson was accused of using his authority to force vulnerable women to perform oral sex while he was on duty. In December 2016, Thompson pleaded guilty to having sex with two women who had called the SPD for help. The Syracuse Police Department and the City of Syracuse are being sued for having reason to believe that Thompson was engaged in illicit sexual conduct but not doing enough to stop it.
June 2016, Father's Day shooting
After an annual Father's Day celebration on Syracuse's Near West Side turned violent, Officer Kelsey J. Francemone, who was one of the responding officers, fatally shot Gary Porter (also known as Terry Maddox), 41. In August 2016, Francemone was cleared of wrongdoing by a grand jury, and in May 2017 was honored at the annual TOP COPS Awards Dinner for "actions above and beyond the call of duty." Six men were acquitted of felony rioting charges.
July 2016, Arrest of Black Lives Matter activist
A video that circulated on social media showed Syracuse police officer Vallon Smith tackling and arresting local O.G.'s Against Violence activist Maurice "Mo" Crawley as he filmed the police making an arrest. On the video, the officer could be heard saying, "Don't you (expletive) move, I'm a (expletive) you up." Crawley's arrest was the subject of a Black Lives Matter protest. He spent one night in jail.
September 2016, Teens from Corcoran High School arrested
Five students at Corcoran High School were arrested by SPD officers for a fight that occurred a few blocks from the school's campus. An 18-year-old boy, three 14-year-old boys, and a 13-year-old boy were charged, and two were held at the Onondaga County Jail after reportedly engaging in disorderly conduct and resisting arrest. One of the boys was accused of throwing a rock at a police vehicle. BLM has said that the arrests were unwarranted and that one student was injured by the police.
"This is why we protest in Syracuse" letter from the local BLM chapter