Officer Ahmad Mims conducts a more thorough search of an arrested individual after tests came back positive for narcotics. Central New York, like the rest of the country, has seen a spike in heroin and opioid abuse. In 2016, the Crime Reduction Team, which Mims works with, confiscated 408 grams of cocaine and 9,515 grams of marijuana and other drugs.
A Syracuse native, Ahmad Mims isn't giving up on the city he loves
The sixth-year cop has always worn a uniform, from the basketball court to city streets. Now he has his eye on more for his community, and himself – all possible if "we just came together" ...


written by:
Justin Mattingly


photography by:
Michael Santiago
Ahmad Mims stood on the opposite side of the basketball court as a Potsdam point guard raced toward the rim for a breakaway layup. All signs pointed to two points for the Bears.
But Mims didn't give up — he never does — as he raced from one side of the court to the other and blocked the shot off the front of the rim.
"You never give up on a play," Mims, 33, says now of the play a dozen years ago, in January 2005. "You never give up on anything."
The basketball standout at Oswego State wears a different uniform now — blue instead of green. He believes in Syracuse and its people — and he is focused on stopping the violence that plagues them through his work on the special Crime Reduction Team of the Syracuse Police Department.
"We patrol these streets and we want to keep these communities safe. We don't want the crime up. We don't want to chase after people every day," Mims said. "We want to help. If everyone came together, I think this city could be flawless almost. As a whole it would work if we just came together."
He's spent the past six years as a police officer, including the past five months on the elite Crime Reduction Team. On some nights it's mundane patrol with lots of conversation and few stops. On others, he's presented with the unexpected: a shooting or a heavy drug bust.
On a night this past April, he fired his gun for the first time in the line of duty.
On April 22, Mims and another Syracuse police officer stopped a Chevrolet Uplander van on Rowland Street near the intersection of South Geddes Street. The stop turned into a drug investigation and the driver sped away from the two officers. After the van stopped again, the driver spun it in reverse with Mims and the other officer, Nicholas Voggel, nearby. The van hit the two officers.
Mims shot at the van, which had the driver and three children inside, as it sped away, hitting it at least one time. The van was ultimately stopped and the driver, identified by police as Peter Dixon, 34, of Syracuse, was arrested and charged with two counts of reckless endangerment, three counts of endangering the welfare of a child, and unlawful possession of marijuana.
The two officers were treated for minor injuries. Mims was put on paid leave, standard police protocol, and cleared to return to work in June.
Only about 27 percent of police officers say they have ever fired their gun in the line of duty, according to a Pew Research Center survey of almost 8,000 cops in 54 departments with 100 or more officers. Yet the public grossly over-estimates how often it happens. Asked to make a guess, 83 percent of people surveyed by Pew said the average officer had pulled the trigger on the job at some time. (There were four officer-involved shootings in 2016 in Syracuse, and citizens died in three of them.)
In an interview a few weeks before the shooting, Mims explained why police don't want to fire their guns.
"We want to stop the crime. (But) we don't want to do that (pull our gun). There's a lot of times we could draw our guns and we don't. People see police draw their guns and think we're the bad guys," he said. "That's the misconception we always get. Just listen to what we have to say. We'll listen to you. Let's work this out."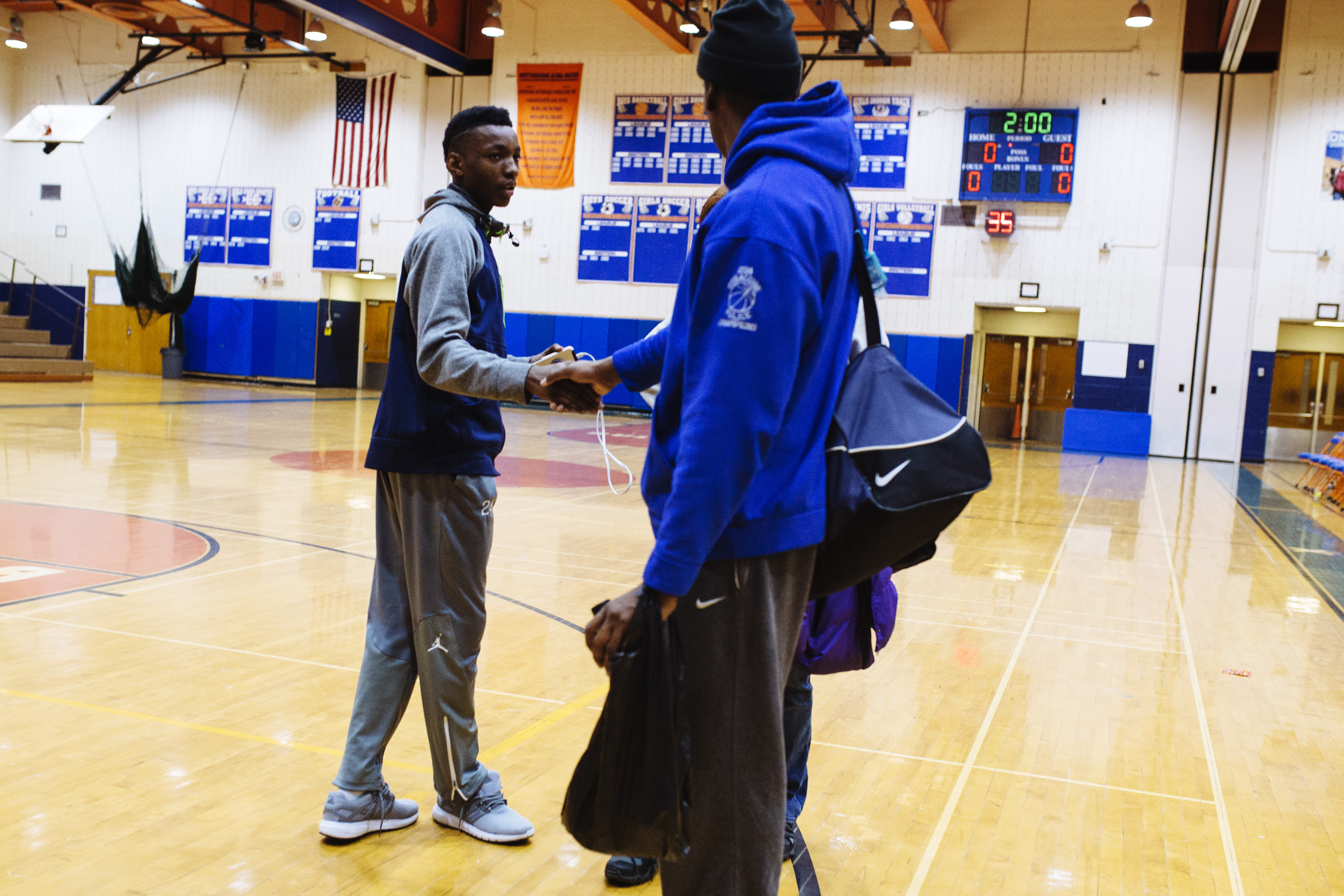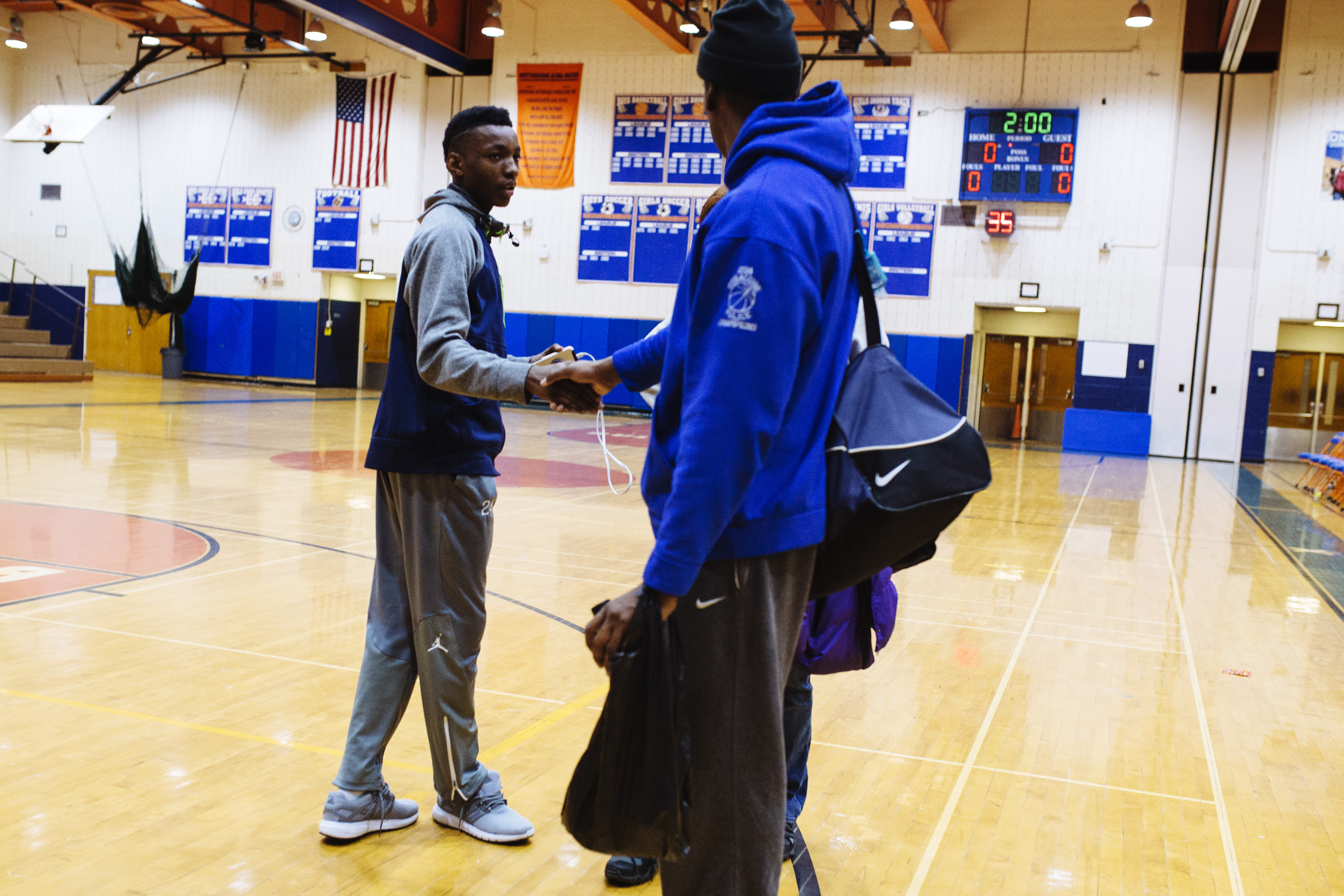 Throughout high school, Ahmad Mims was very active in sports — basketball being his favorite. He played college ball at Oswego State, where he would go on to be an all-league player and the school's all-time leading shot blocker. He was known on the court for his defense, a trait which he brings to his job on the Crime Reduction Team. "A lot of people don't get to play at the college level. Being able to experience that was great, and it helped me later on in life." Mims continues to play basketball and uses it as a way to reach as many youth in Syracuse as possible, playing a mentor-like role in their lives.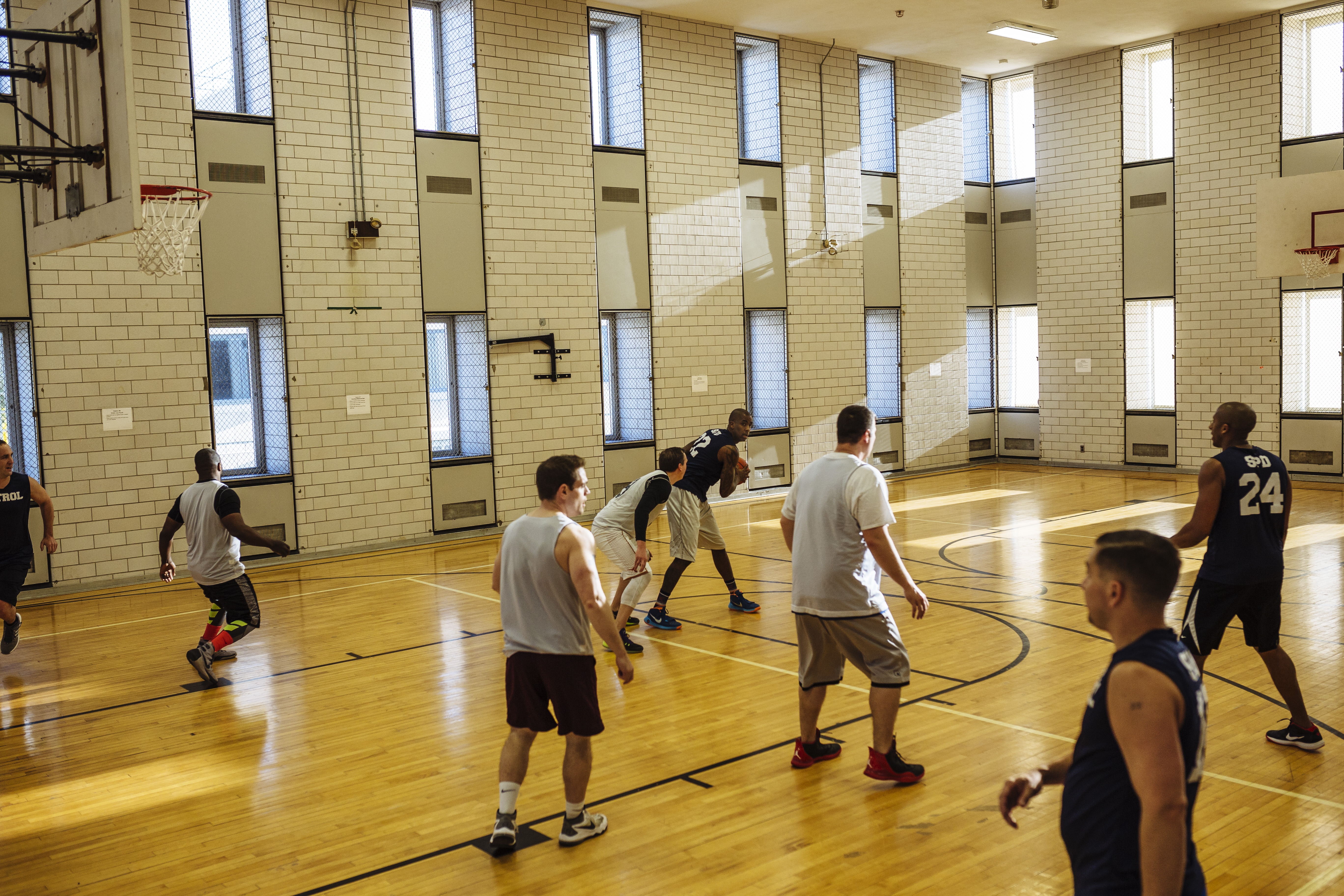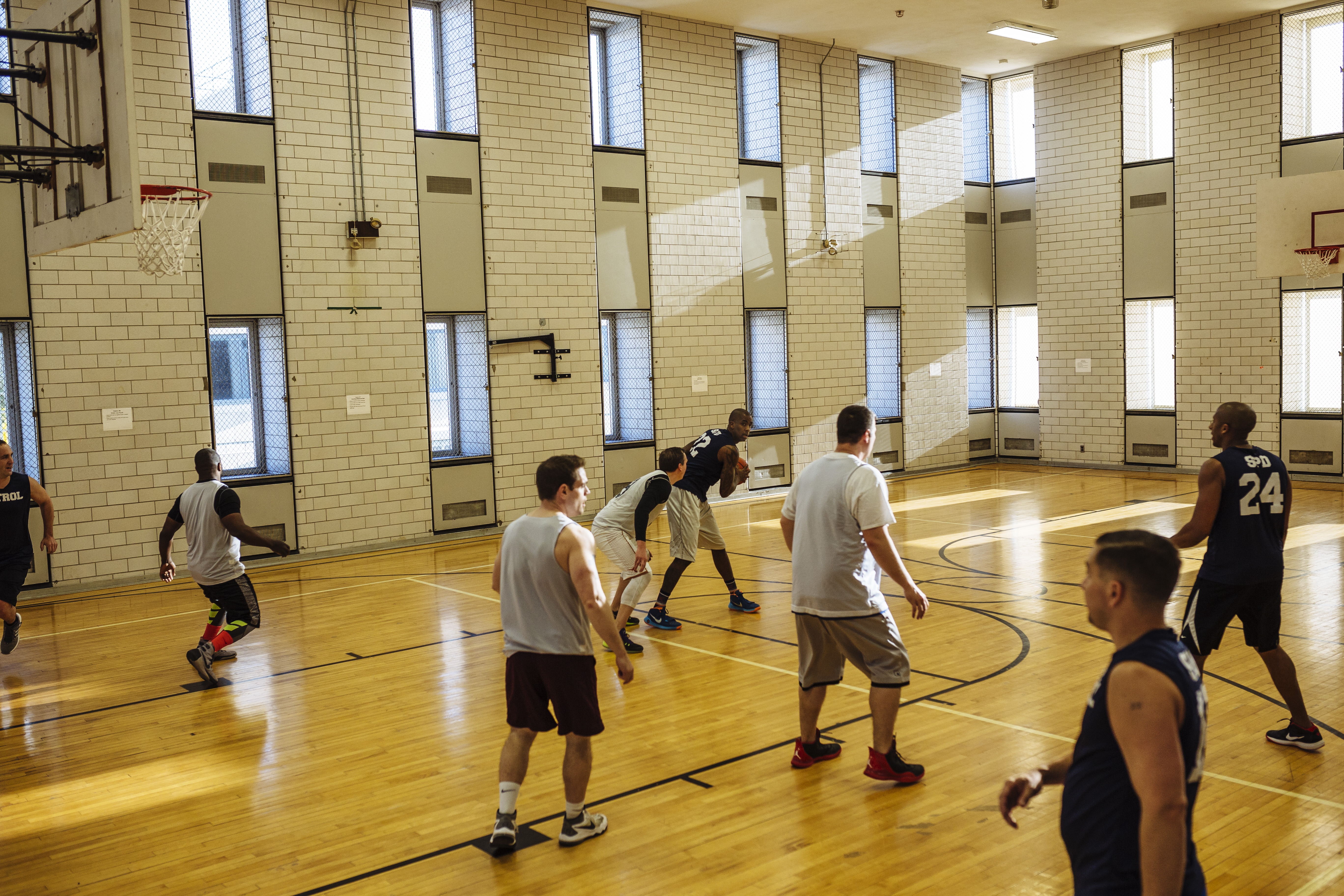 On his days off, Ahmad Mims, along with his co-workers, play in basketball tournaments with different departments of the force. The games help in strengthening the bond between the officers.
"We want to stop the crime. (But) we don't want to do that. There's a lot of times we could draw our guns and we don't. People see police draw their guns and think we're the bad guys," he said. "That's the misconception we always get. Just listen to what we have to say. We'll listen to you. Let's work this out."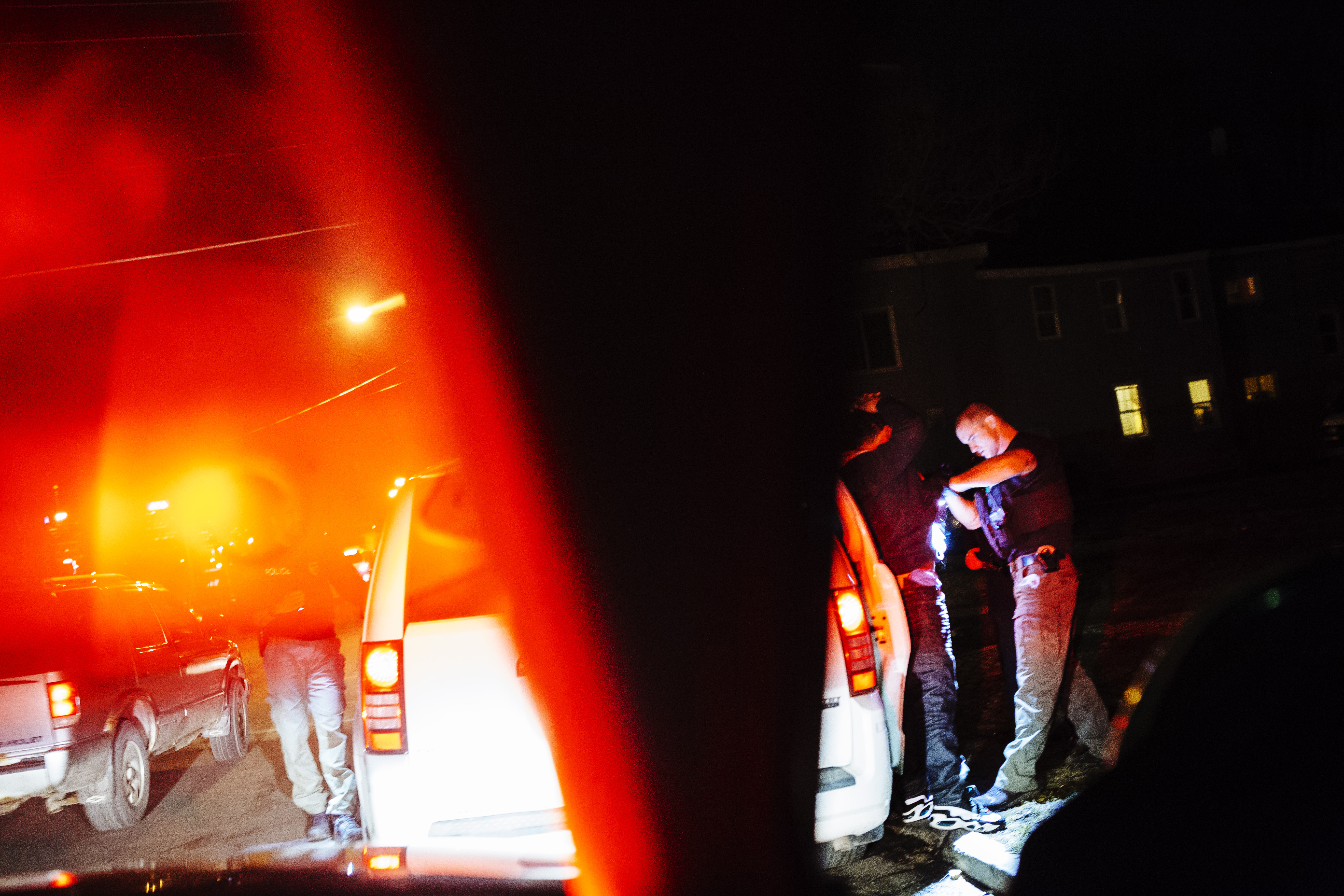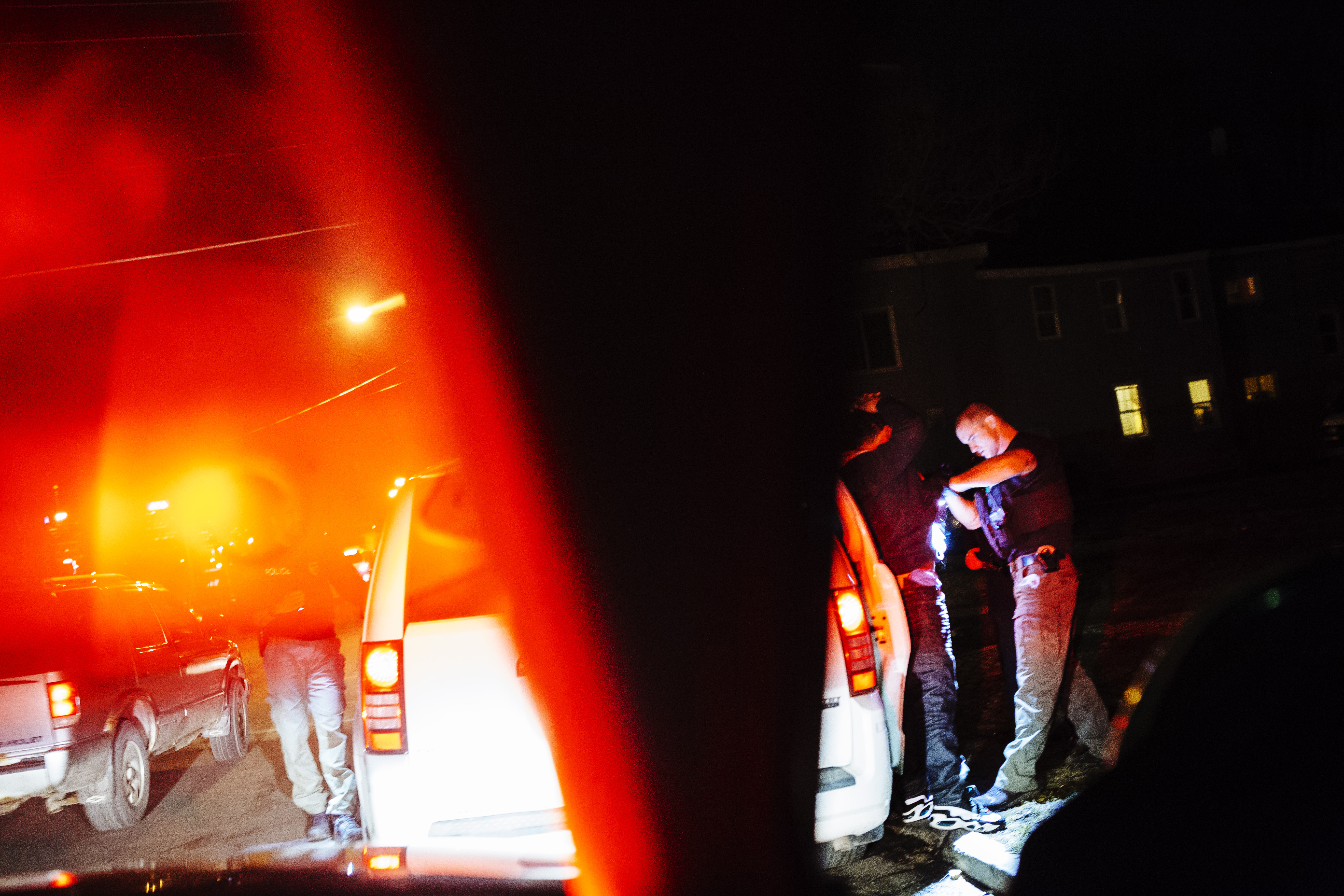 Ahmad Mims says that being a black police officer has its pros and cons. He's been called a "sellout" and told "you don't care about us." "It makes me more approachable because they see someone who looks like them. A lot of times that eases people. I'm still going to tell you what's right and wrong — I'm not going to sugarcoat it."
On a rainy Friday night in March, Mims and his partner, William Lashomb, patrolled the South Side of Syracuse, working an area with a high crime rate. They pulled over a midsize SUV outside a church, suspecting its windows were over-tinted. The two veteran officers discovered some marijuana as well as an open container.
The two men in the car, both black men — as is Mims — didn't cooperate at first, trying to hide the marijuana and protesting that they were clean. Mims explained he and Lashomb would be searching the vehicle anyway, and — eventually — the men in the car relented.
It didn't happen on this night, but as a black police officer on the street, Mims has heard it: He's a "sellout," an "Uncle Tom," one of "us" who doesn't "care about us."
"It doesn't matter white cop or black cop. We're equal — we're all equal," Mims said. "We're here to do a job and keep people safe."
"It doesn't matter white cop or black cop. We're equal — we're all equal," Mims said. "We're here to do a job and keep people safe."
There are pros and cons to being a black police officer. Only 7.1% of SPD officers (32) are black in a force of 445, and in a city where minorities make up 44% of the population. (In the Syracuse force, 2.5% of officers are Hispanic, 0.5% Native American and 0.4% "other.")
"It makes me more approachable because they see someone who looks like them," Mims said. "Even though (a white officer and black officer would) probably say the same thing, they see someone who looks like them and a lot of times that eases people. I'm still going to tell you what's right and wrong — I'm not going to sugarcoat it."
A fast-climber in the Syracuse police ranks, Mims was promoted in January of this year to the Crime Reduction Team, a 12-man unit that works four 10-hour shifts per week in target areas with high crime rates and a heavy gang presence.
The CRT is on the front lines of Syracuse's battle against violent crime. Its goal is to be "proactive" in police jargon, often parlaying routine traffic stops into significant arrests that can be high-danger, high-tension encounters. The team seized 108 guns, made 378 felony arrests and confiscated $95,000 in cash in 2016.
CRT members also respond to shootings, and on that same Friday night Mims and Lashomb stopped the car with tinted windows, they rushed to the scene of one. They jumped from their car and joined other officers — the suspect still on the run.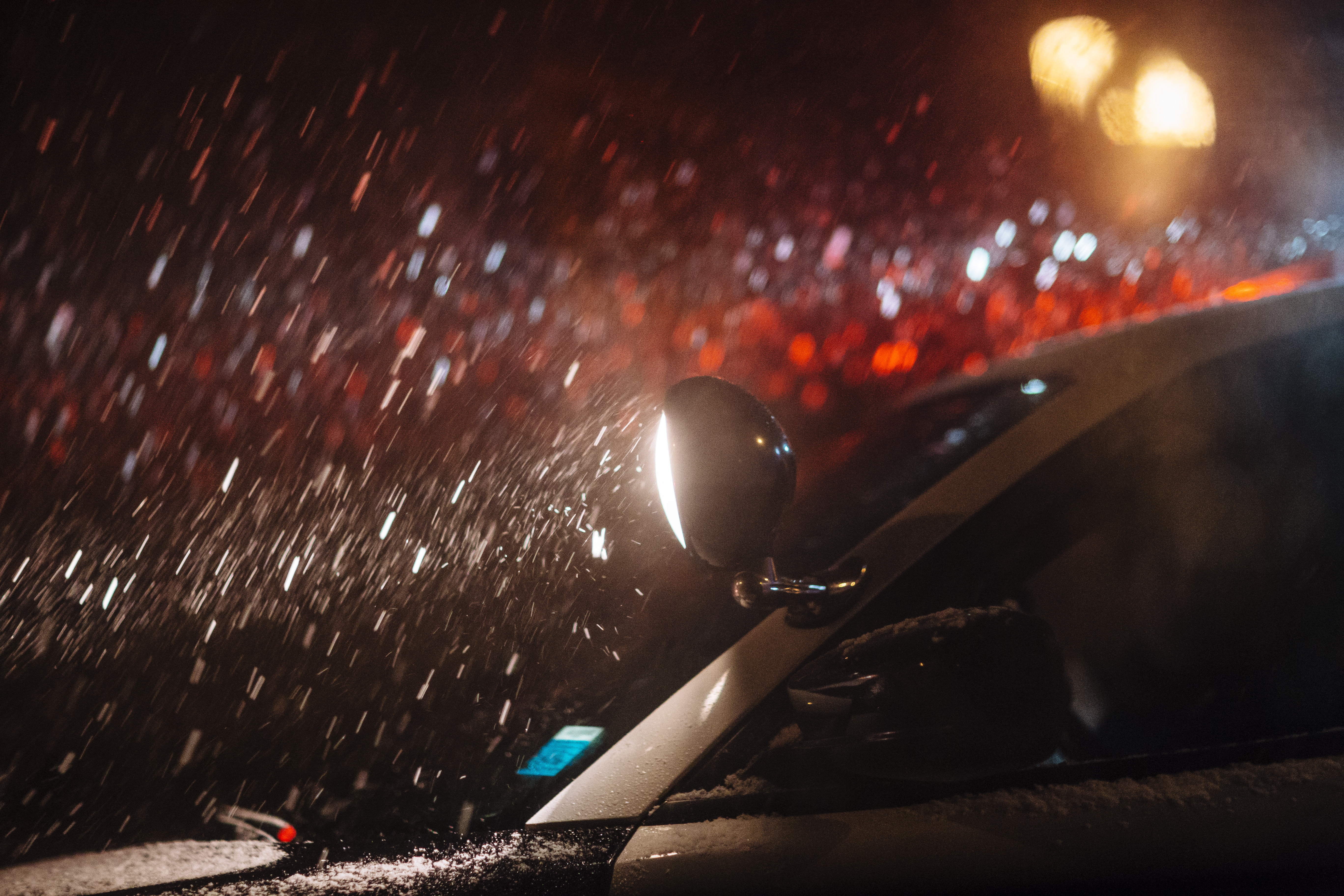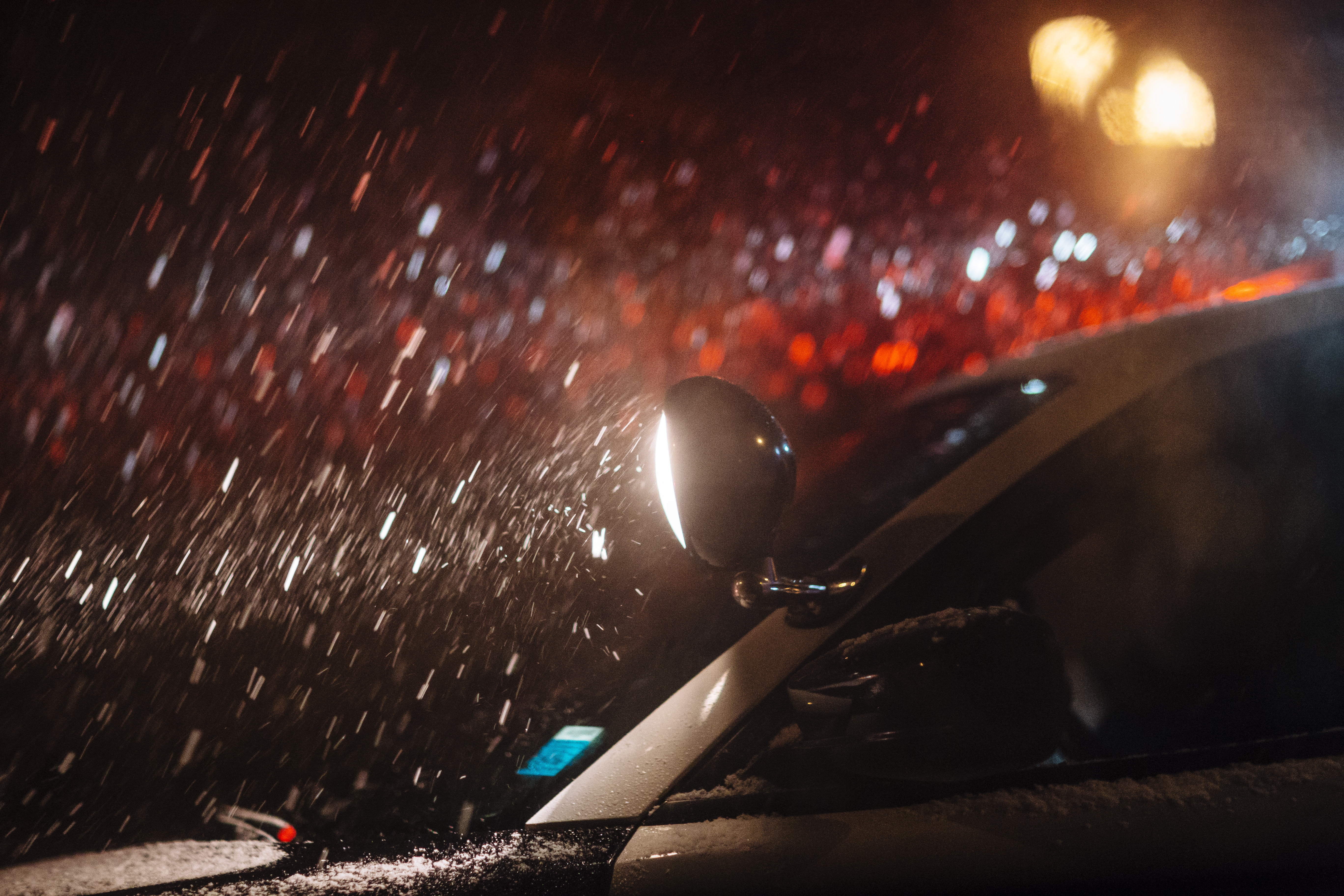 Since the clearing of a Syracuse police officer who shot and killed a man after responding to an annual Father's Day party in 2016 that turned chaotic with multiple guns being fired as partygoers fled, tensions between a community, who often feel over policed, and officers have been at an all-time high.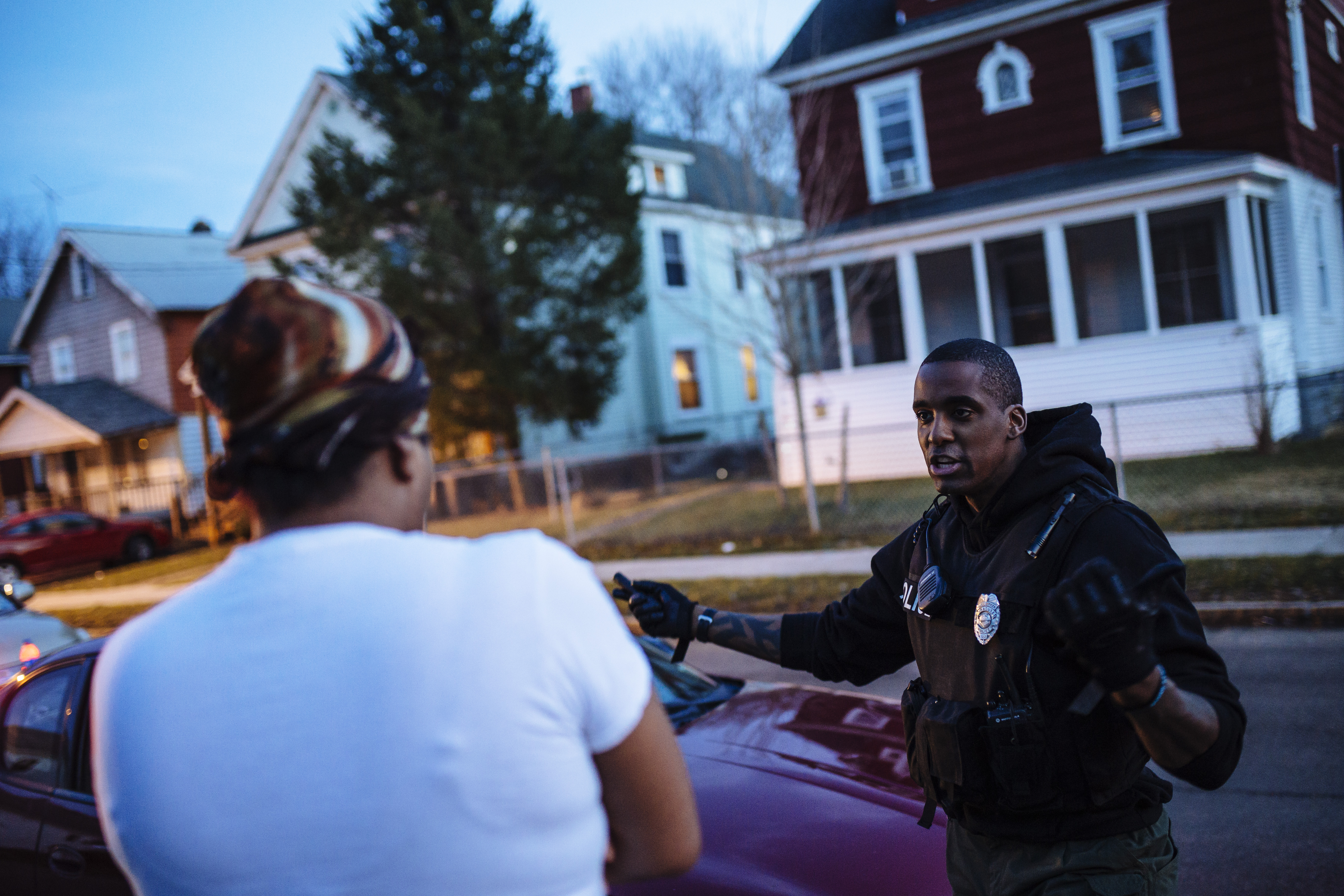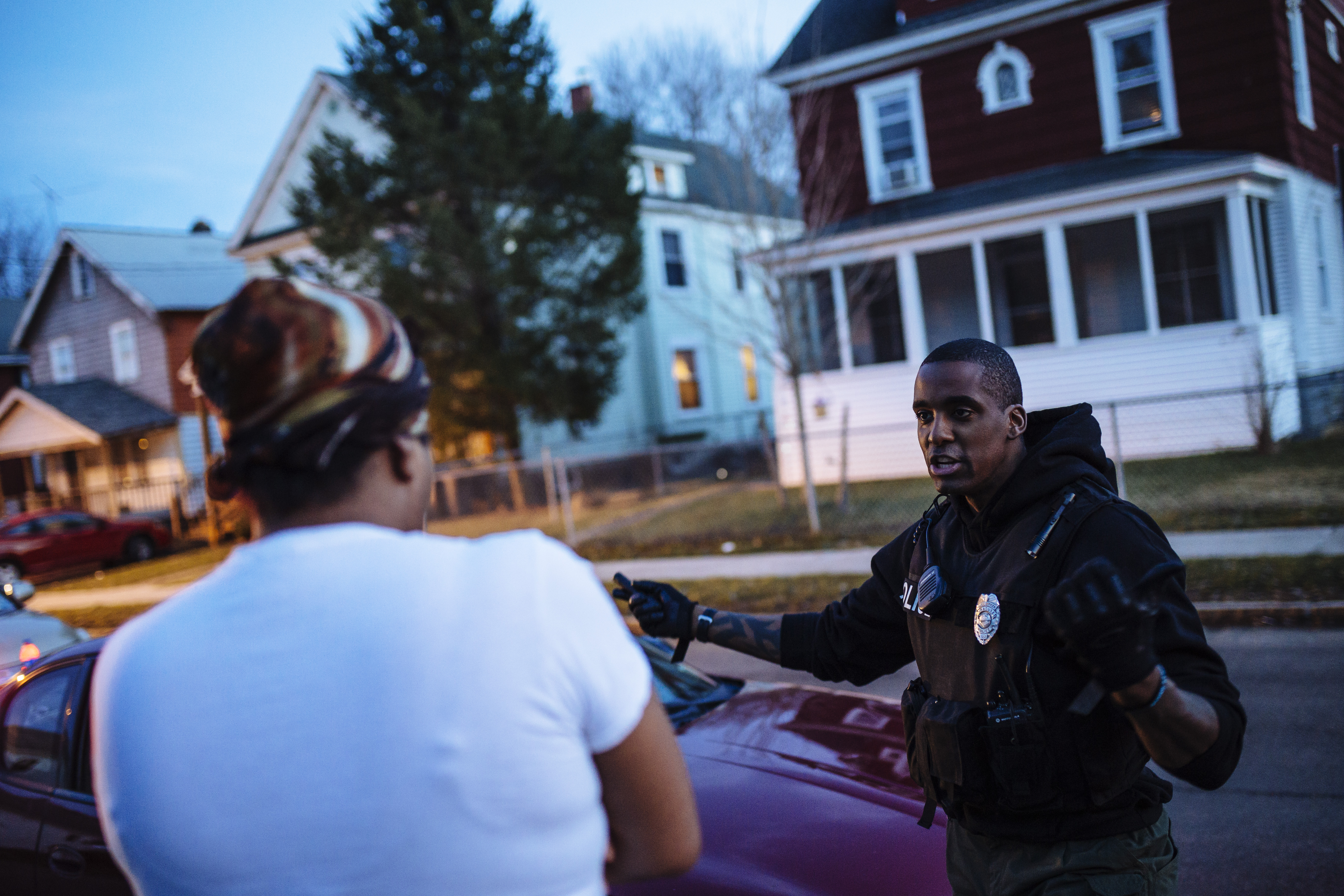 Communication is key, Mims says. "People want to feel safe. I think that police and community relations are getting better."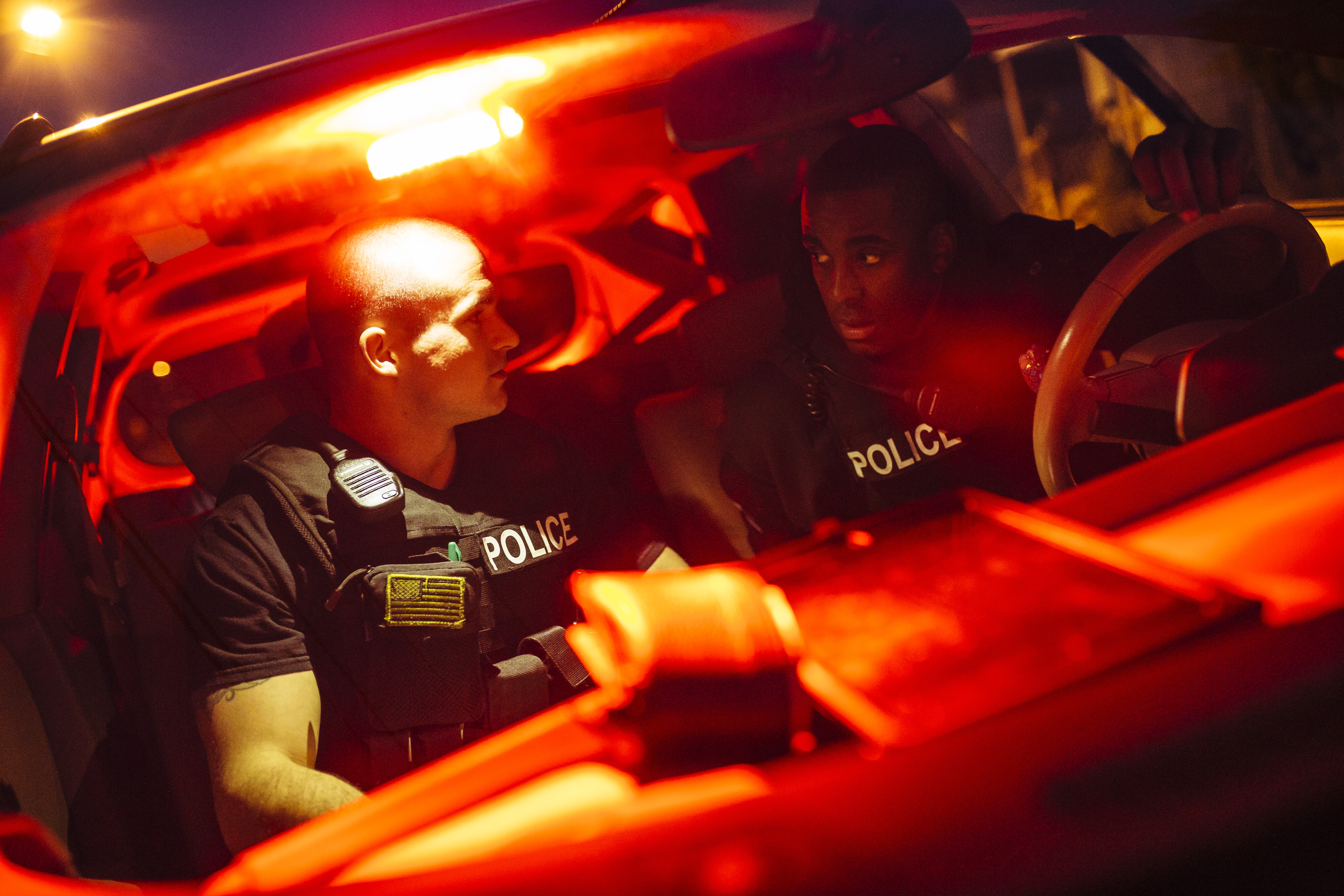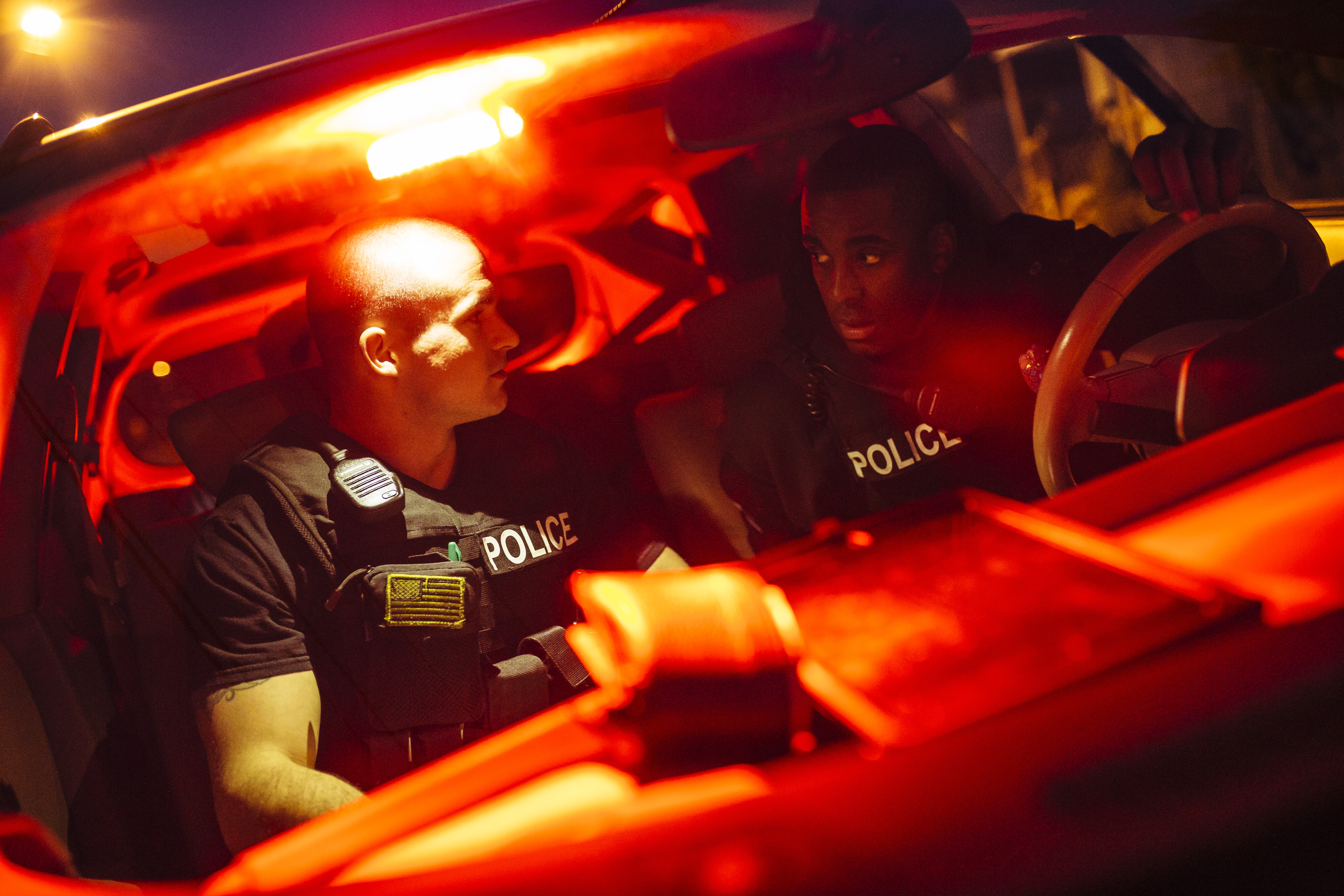 Officers Ahmad Mims, right, and William Lashomb, members of Syracuse Police Department Crime Reduction Team, talk over the next steps after processing contraband found during a traffic stop. The Crime Reduction Team targets areas of high-crime and heavy gang activity throughout the city of Syracuse.
The group of officers — the majority of them CRT members — combed nearby yards and quizzed local residents. Eventually they spotted footprints in the snow, leading them to a home where the suspect was hiding — and peacefully arrested. After finding a gun in a backyard, they headed back to the office for the last step: numbing paperwork.
Mims works long hours, often taking on overtime at Syracuse Hancock International Airport. He enjoys going home to his North Syracuse residence where he streams movies and TV shows, including "The Wire," an HBO TV show that focuses on narcotics in Baltimore, much of the same work Mims and his team does.
The self-described "city rat" grew up playing pretty much any sport he could. In baseball, he patrolled centerfield and pitched; in football, he played tailback. He switched over to cross country in middle school before the Cicero–North Syracuse High School volleyball coach recruited him to play.
He went to the state championships in track and field, finishing second in the high jump to what Mims called a natural, a competitor who "just got up there and did it. No practice."
His favorite sport, though, was basketball.
Mims could always be found on the court — in city parks growing up, in the gym during the season and after, when he played AAU with some of the best players in the area, including former Syracuse forward Matt Gorman. He'd make room for family trips to Disney World and a trip every summer vacation with his three siblings, and for his job at the local McDonald's.
"Slinks," a nickname for Mims' tall and long frame, was recruited by the likes of Le Moyne and Roberts Wesleyan to play basketball. After a recruiting trip to Oswego with a former Solvay basketball player, Mims knew that's where he should be.
"Ahmad was a great kid, a great player in high school. He was highly recruited and we knew he'd be a great Division III player," said Kevin Broderick, the Oswego basketball coach when Mims played. "He's the type of guy who every coach wants in their program."
The 13-year Oswego head coach saw Mims play his junior year at CNS and knew he wanted him on the Lakers. Broderick worked as hard to get the 6-foot-4-inch Mims to Oswego as he had any recruit, he said, because of his character and "off the charts athleticism."
Mims shined in the gold and green, becoming an all-league player, a 1,000-point scorer and the school's all-time leading shot-blocker.
"In the 20 years I've coached, Ahmad is one of the top guys who could pick up things unbelievably quick," said Broderick, who now coaches at Niagara University. "One of my favorite players I've ever coached."
After graduating from Oswego in 2006 with an elementary education and wellness management degree, Mims was on the teacher-coach track. He helped out Broderick for a year as a volunteer assistant coach — "I loved basketball and I didn't want to leave it" — and served as an assistant junior varsity and varsity coach at his high school alma mater.
Mims student-taught, but the experience wasn't what he envisioned. He thought about a different career. His father, Kevin, had always dreamed of becoming a police officer, talking about it to his four children and sometimes pretending to drive his personal car around like a police car. Kevin tried a handful of times to join both the Syracuse Police Department and New York state police, but didn't pass the test.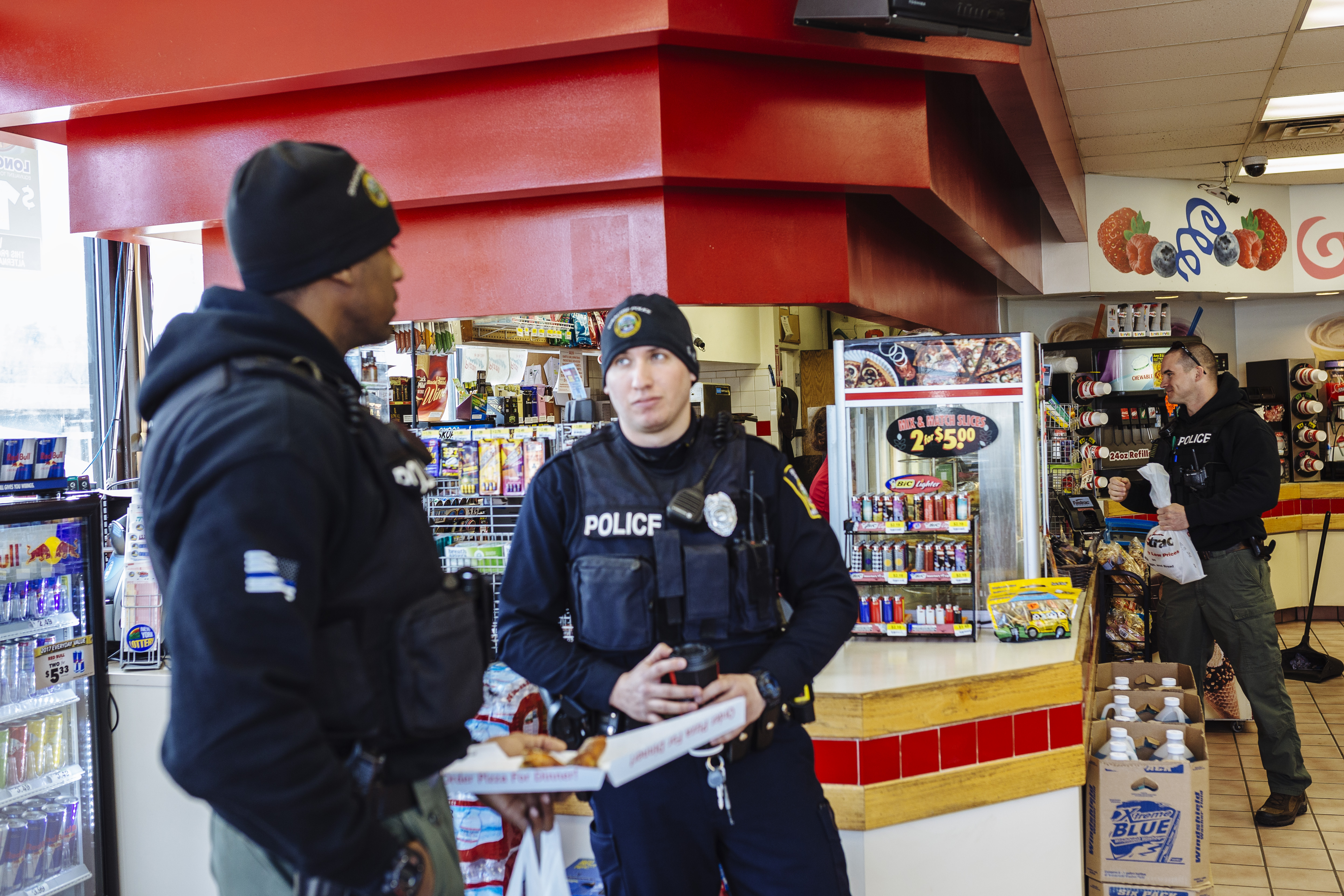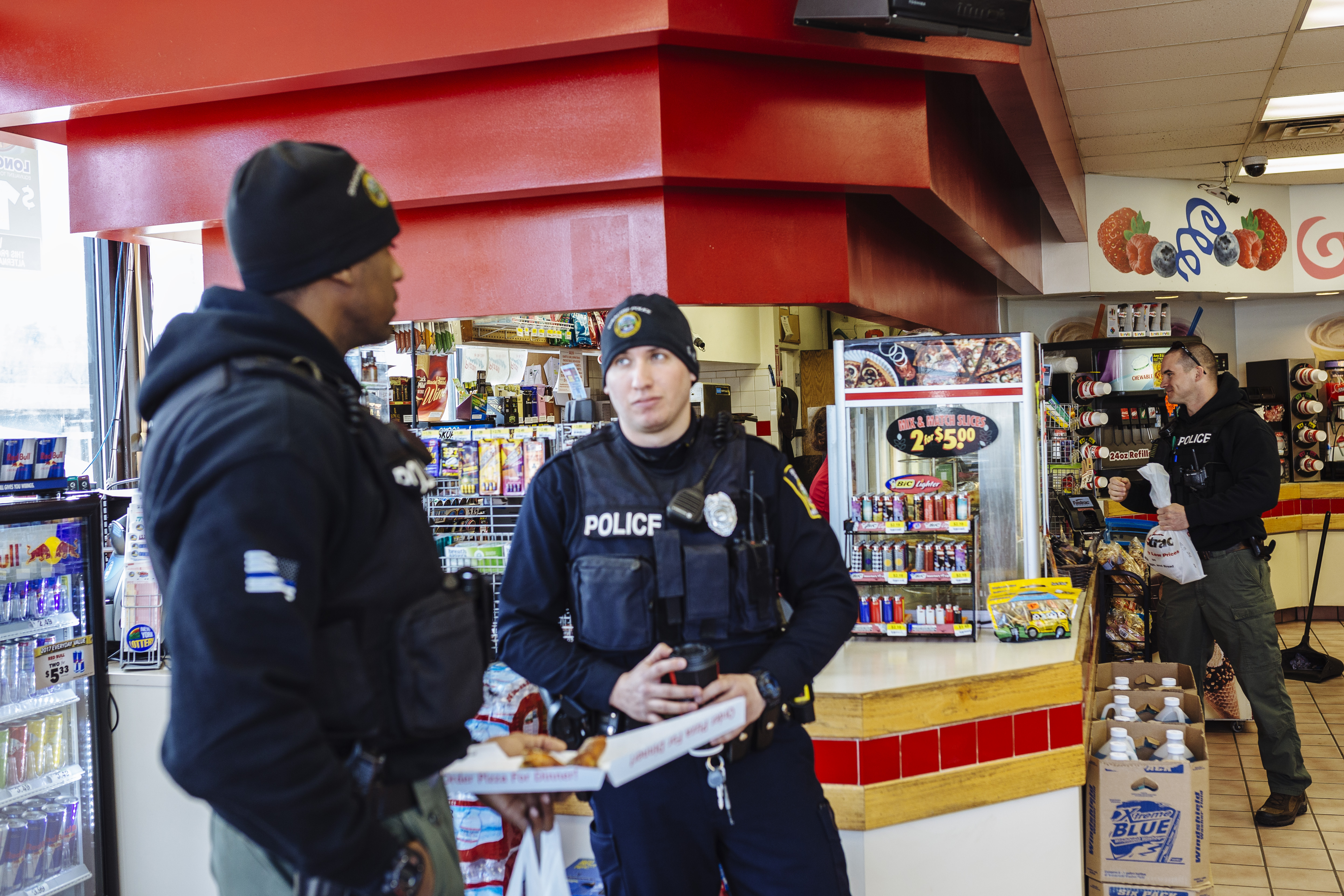 Long hours and back to back calls often leave Ahmad Mims and his partner William Lashomb with little to no down time. Thus their frequent visits to local gas stations to make food runs have made them well-known to employees.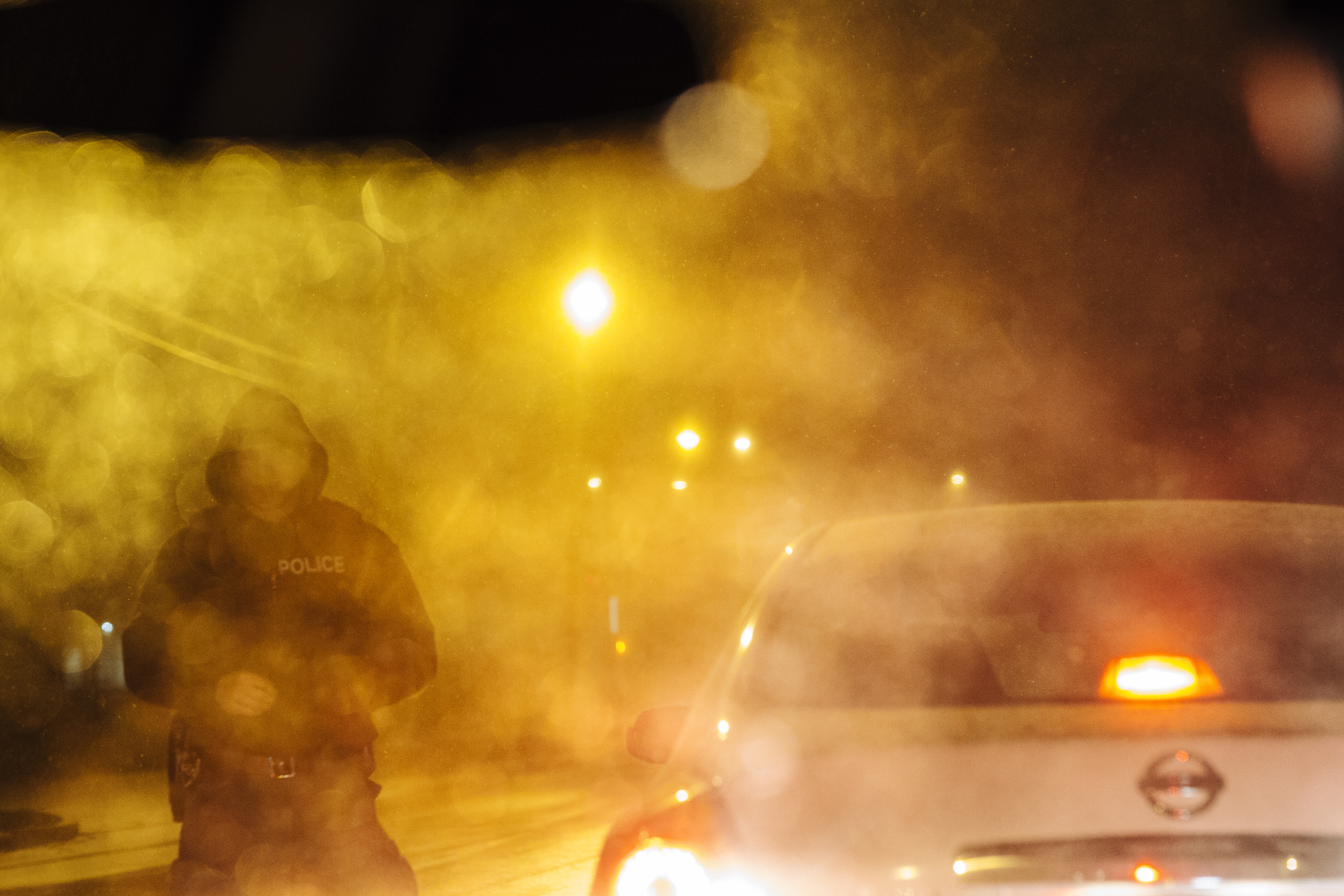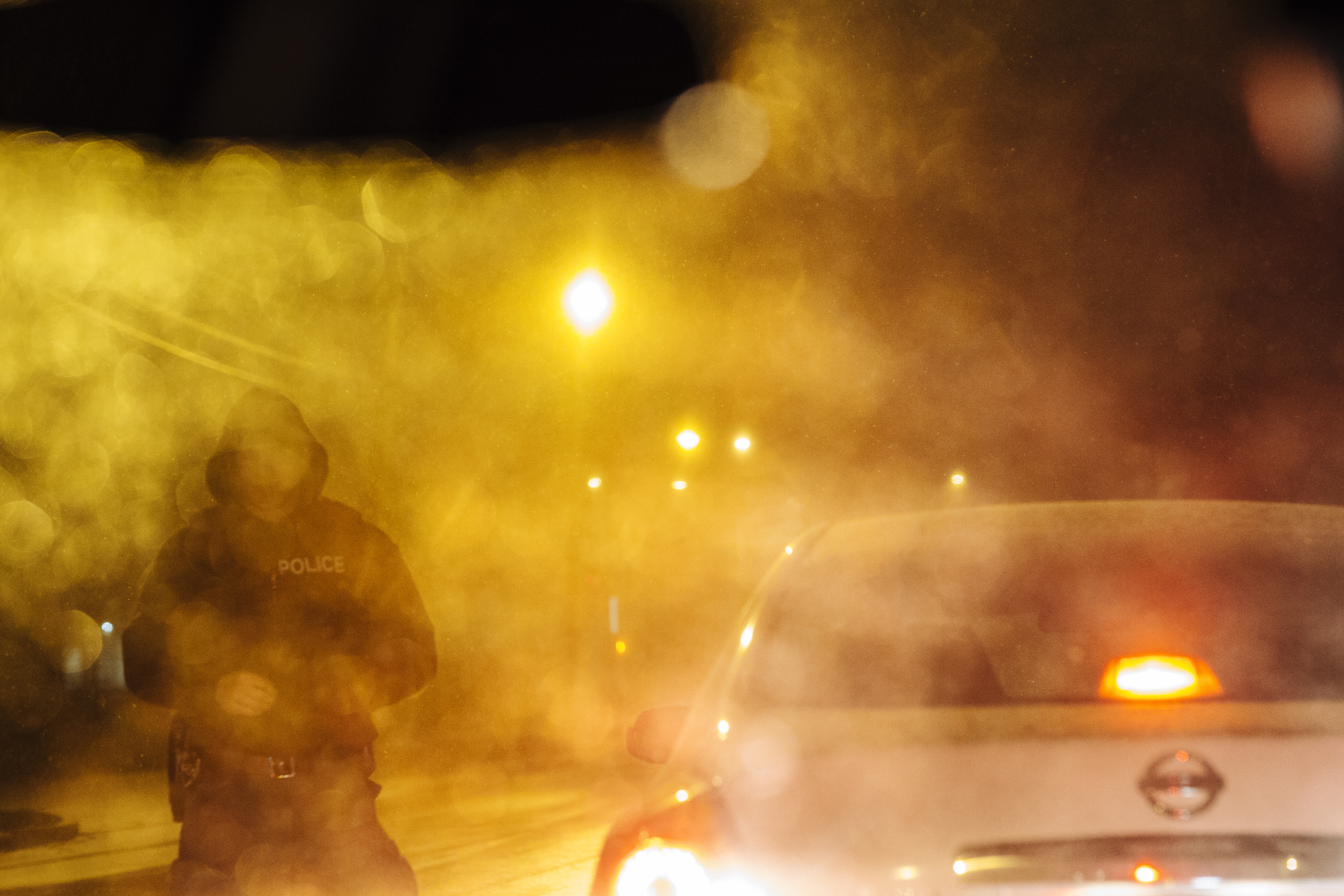 William Lashomb, who has been with SPD for eight years, has been Mims's partner since both joined the Crime Reduction Team. Lashomb brings his military experience, gained in the Army, to the team.
19 minutes per game
50% field goal percentage
5.2 rebounds per game
6.3 points per game
0.4 assists per game
Team record: 16-11

2003-04 (Sophomore season)
29 minutes per game
43% field goal percentage
34 3-pointers
5.4 rebounds per game
11.7 points per game
46 blocks
Team record: 18-9

2004-05 (Junior season)
30.7 minutes per game
45% field goal percentage
35 3-pointers
6.3 rebounds per game
11.6 points per game
55 blocks
Team record: 24-6 (16-0 at home)

2005-06 (Senior season)
32.2 minutes per game
54.7% field goal percentage
8.2 rebounds per game
15 points per game
73 blocks
Team record: 22-8
First Team All SUNYAC
Became a member of the 1,000 point club on Jan. 10, 2006
All-time leading shot blocker in SUNY Oswego basketball history
A simple question from his father sparked Mims' interest in wearing the blue uniform: "Why don't you take the test?"
He decided to do it after talking to some friends, in what he now considers the best decision of his life after never thinking he'd be a cop.
His family supports him in a different way now, behind the scenes rather than in the stands at sporting events. His father said he consistently worries about the danger of being of police officer, but supports his son's decision.
"You're just on edge all the time," Kevin Mims said.
Underneath Mims' police uniform — a hooded sweatshirt with a bulletproof vest overtop and military green pants — are an estimated 30 tattoos. His got his first tattoo, a tribute to his "Slinks" nickname, when he was 18. He's consistently added to them. Each one has a special meaning, including the portrait of his 5-year-old son on his back.
His son lives in Virginia with his mother, whom Mims said he's better friends with now than when the two were married. He sees his son once a month and for an extended period in the summer. The 5-year-old loves Legos, Mims said, and is speaking some Spanish.
"We'll see if he's going to be a ballplayer," Mims joked.
As for Mims, he still is a ballplayer. He works out every other day and still plays regularly in a Sunday league. He showcased his talents in March at the Syracuse Police Department vs. Syracuse Fire Department charity basketball game.
With a defender overplaying him on the left side of the court in the third quarter of the game, Mims cut behind him and took a bounce pass. The former all-league college basketball player and state finalist high jumper sprung to deliver a two-handed jam over two defenders. The ball through the rim, Mims emphatically slapped the backboard with both hands. He finished the game with 15 points, 11 rebounds and four blocks in a 74-68 Syracuse police win.
Mims' parents, who are from North Syracuse, were in the stands for the game. They never miss one. They couldn't contain their smiles after the game while talking with their son, giving the familiar look of proud parents.
This spring, Mims tried out for the Syracuse police SWAT team, an elite unit that would add additional responsibility for the fast-climbing and challenge-seeking officer.
"The sky's the limit for a guy like (Ahmad). He's smart. He knows how to do the job. He's young and so the sky's the limit," said Syracuse Police Chief Frank Fowler. "Could easily see him being in my position one of these days."
When Mims graduated from Oswego, he returned to the school and to his high school as a coach to share his knowledge. Now, as a police officer, he's working to do the same thing.
He grew up in the city as a black child and wondered out loud over a meal in a Syracuse restaurant recently how great it would be if a child saw Mims, a black police officer, on the job and then wanted to go on to be one, too.
"I know what it's like growing up out here. I chose a path and it is what it is," he said. "As a whole we want everyone to be safe. That's the ultimate goal. We want to preserve life, keep the kids and the streets safe."
Mims struggles with the state of police-community relations, both in the U.S. and here in Syracuse. There's not enough respect, he said.
"If you just listen, nobody would ever fight with anybody," Mims said. "Rather than separate from the police and the community, it's got to be more of a togetherness."
Mims wants to see more people attend the Civilian Police Academy to get a better understanding of police work. Forty attended the second one Syracuse has had, held in January.
For Mims, that understanding has come from a life in and around Syracuse. He spent his childhood in the city and got along with police officers he saw on the beat. He's carried the never-give-up attitude his parents instilled in him through his childhood and into college on the basketball court. Now, he's not giving up on his city.
"It doesn't matter black or white, grew up in the city or not, it comes down to respect. Everyone's got to respect each other," Mims said. "Doesn't matter what you look like, who you are, or whether you have a badge or not. One of these days this city will be good again."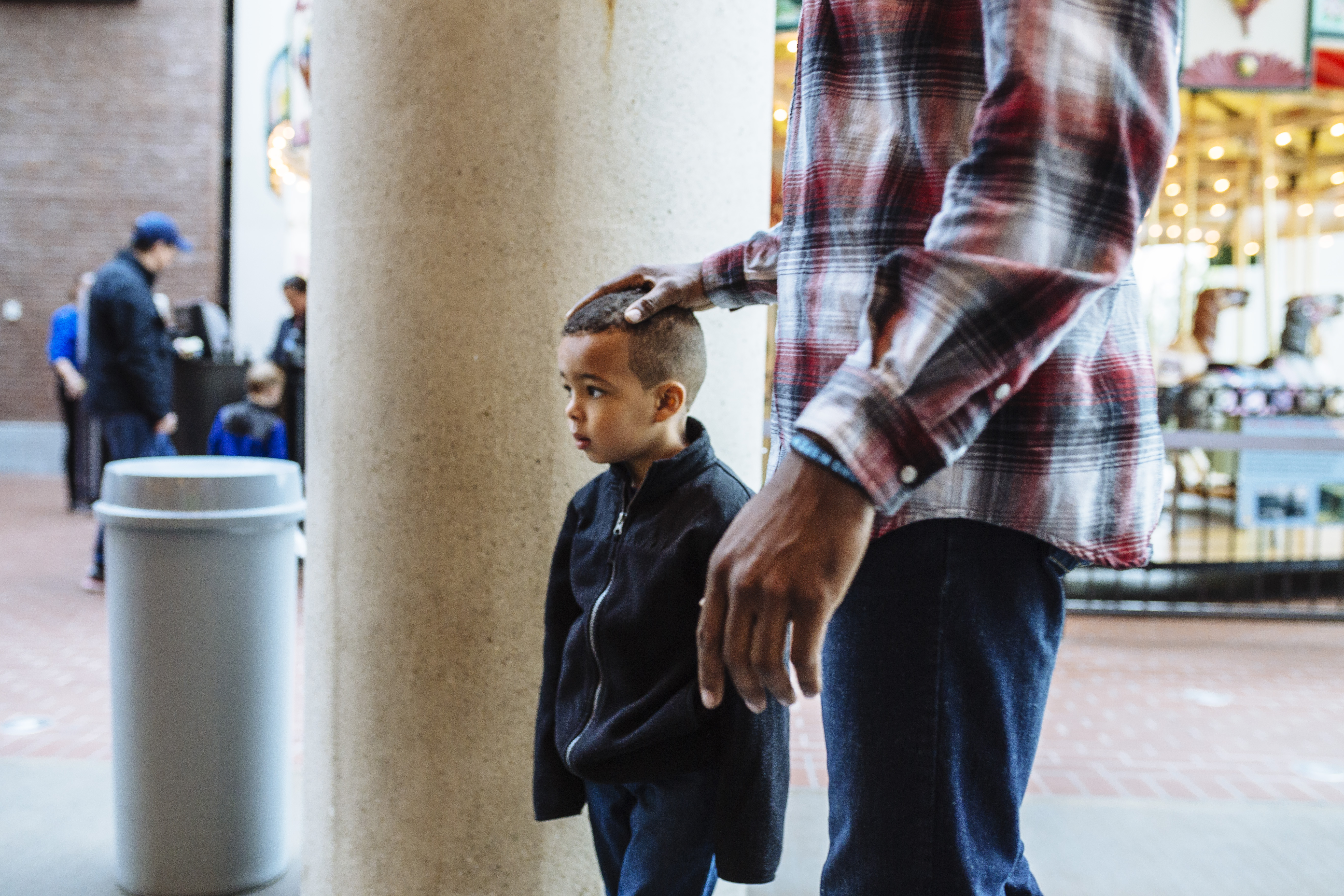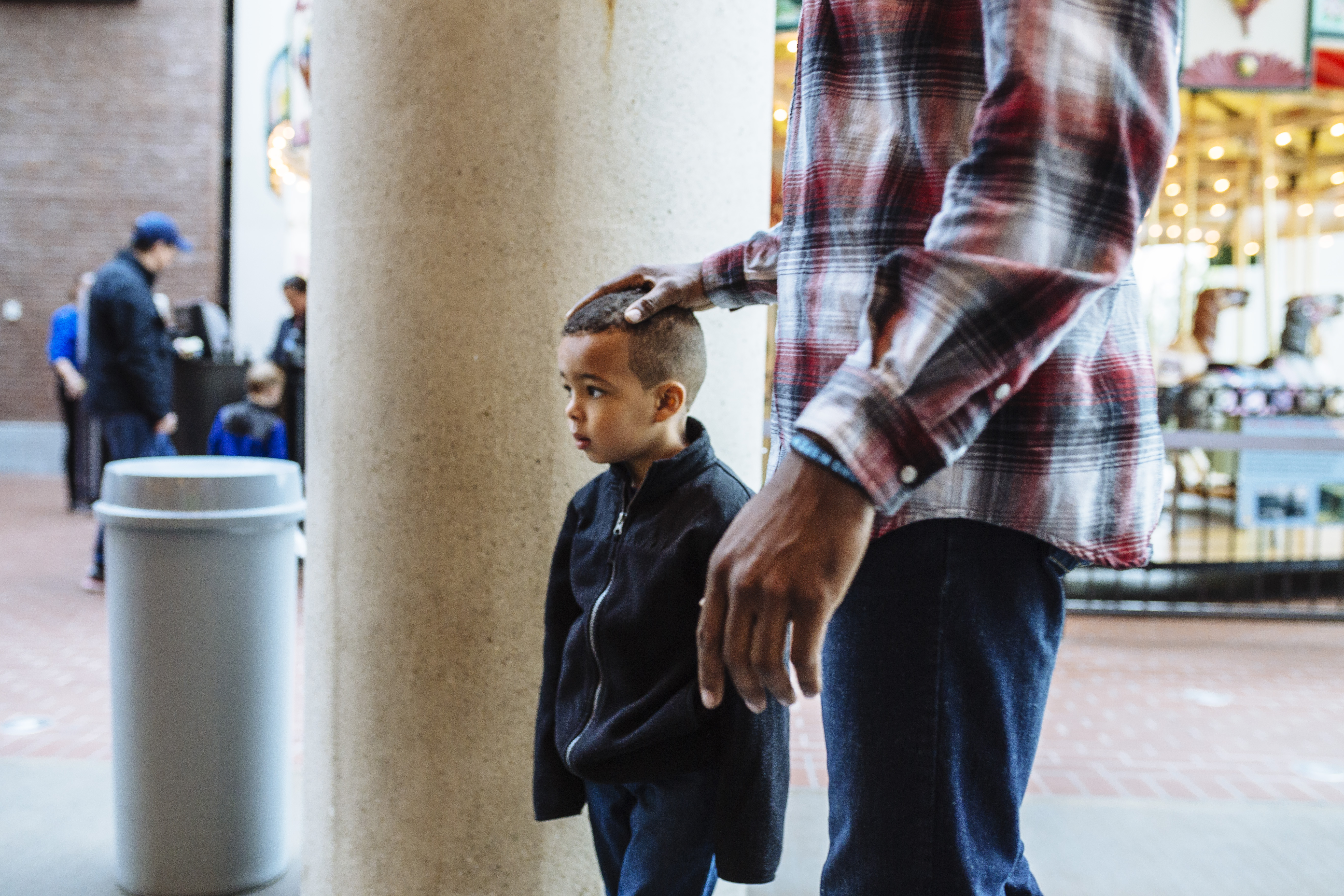 Ahmad Mims has built a special bond with his 5-year-old son, Ayden, from a previous marriage. When the two are together, his son never wants to leave his side. "He's big for his age and is a gentle giant. He has such a high respect level and listens to his elders."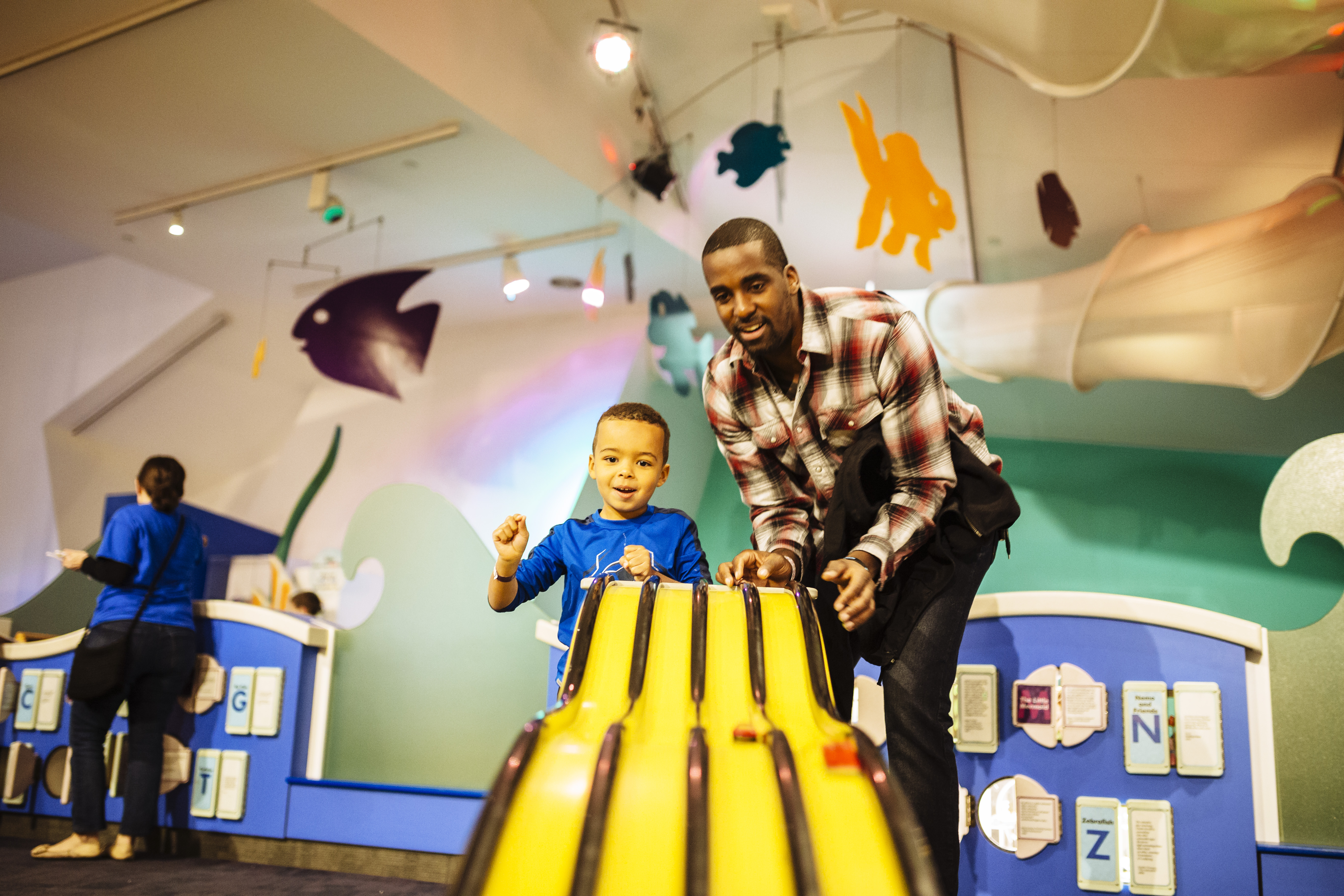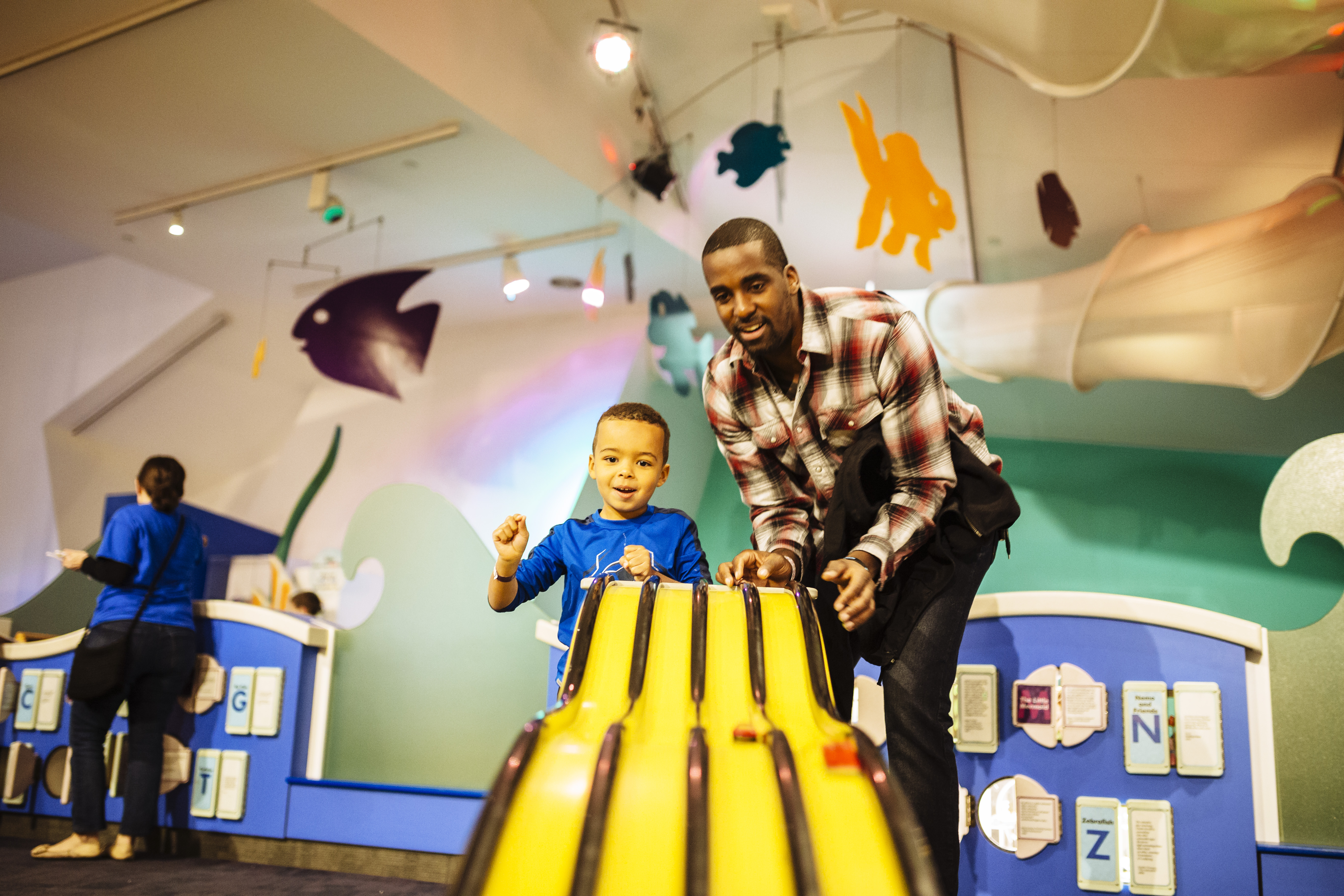 It hits home for Ahmad Mims when there's a police shooting involving kids. "I feel for the parents ... It makes me just want to come home and hug Ayden and not let him go or just talk to him on the phone. No one wants to see a life lost by a police officer — that's not how they operate. A life lost is a terrible thing." Spending time with his son is a way for Mims to release stress and decompress from the things he sees on the job.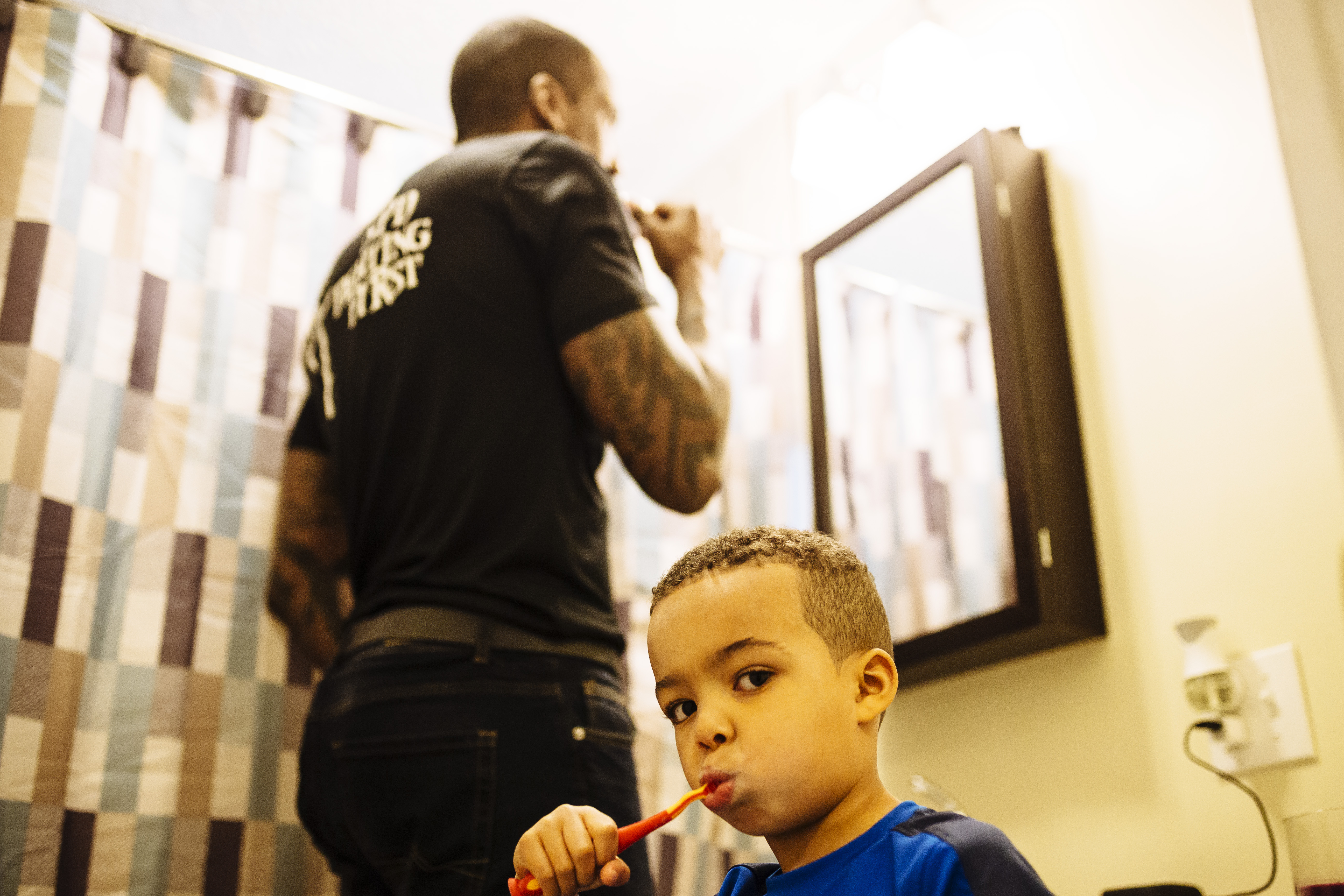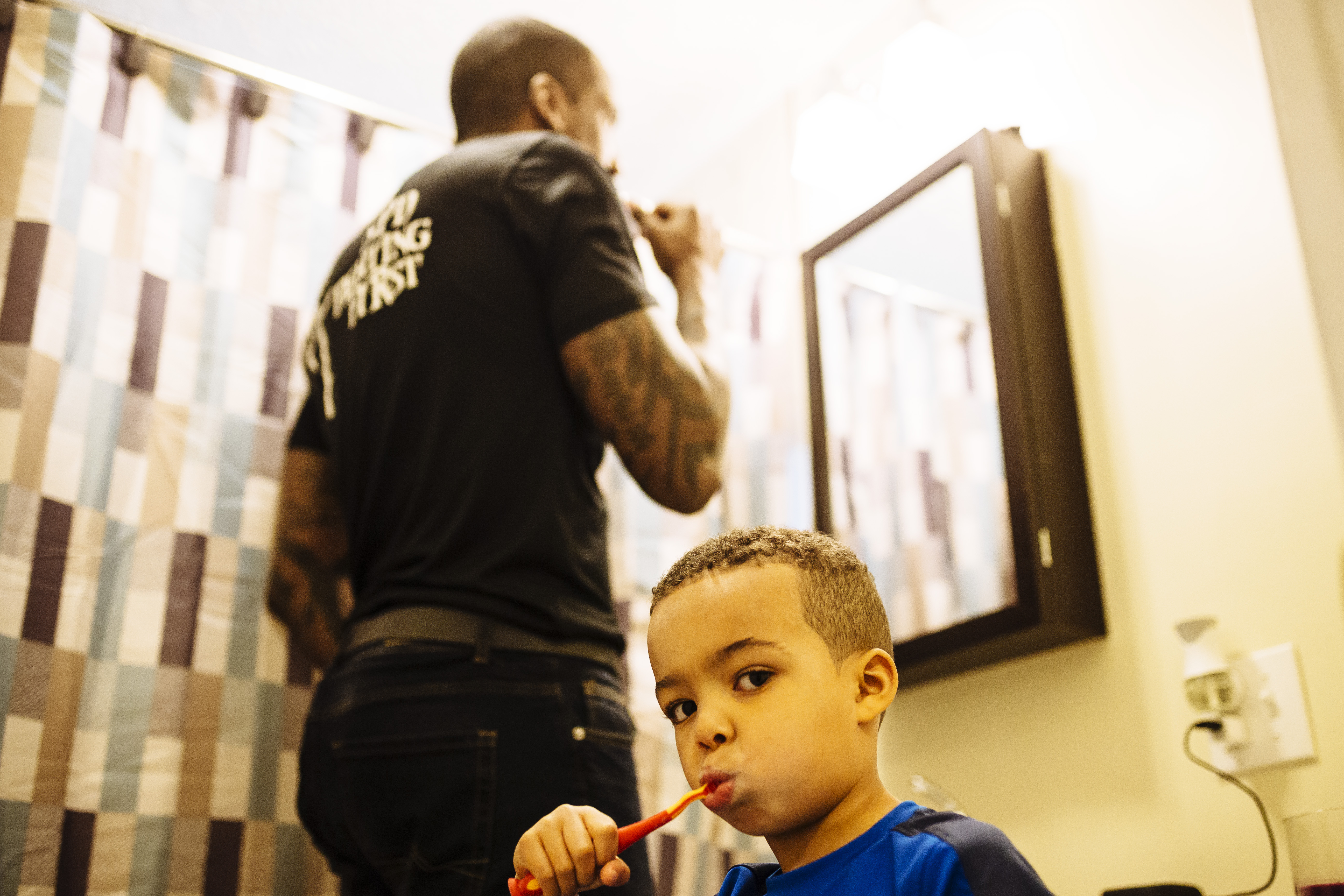 "I see a lot of me in him and him in me." Mims says he would love to see his son, Ayden, follow in his footsteps and become a police officer, but it's something that he feels his son's mother would not approve of, given the climate of how police officers are looked at and the dangers they can face on the job.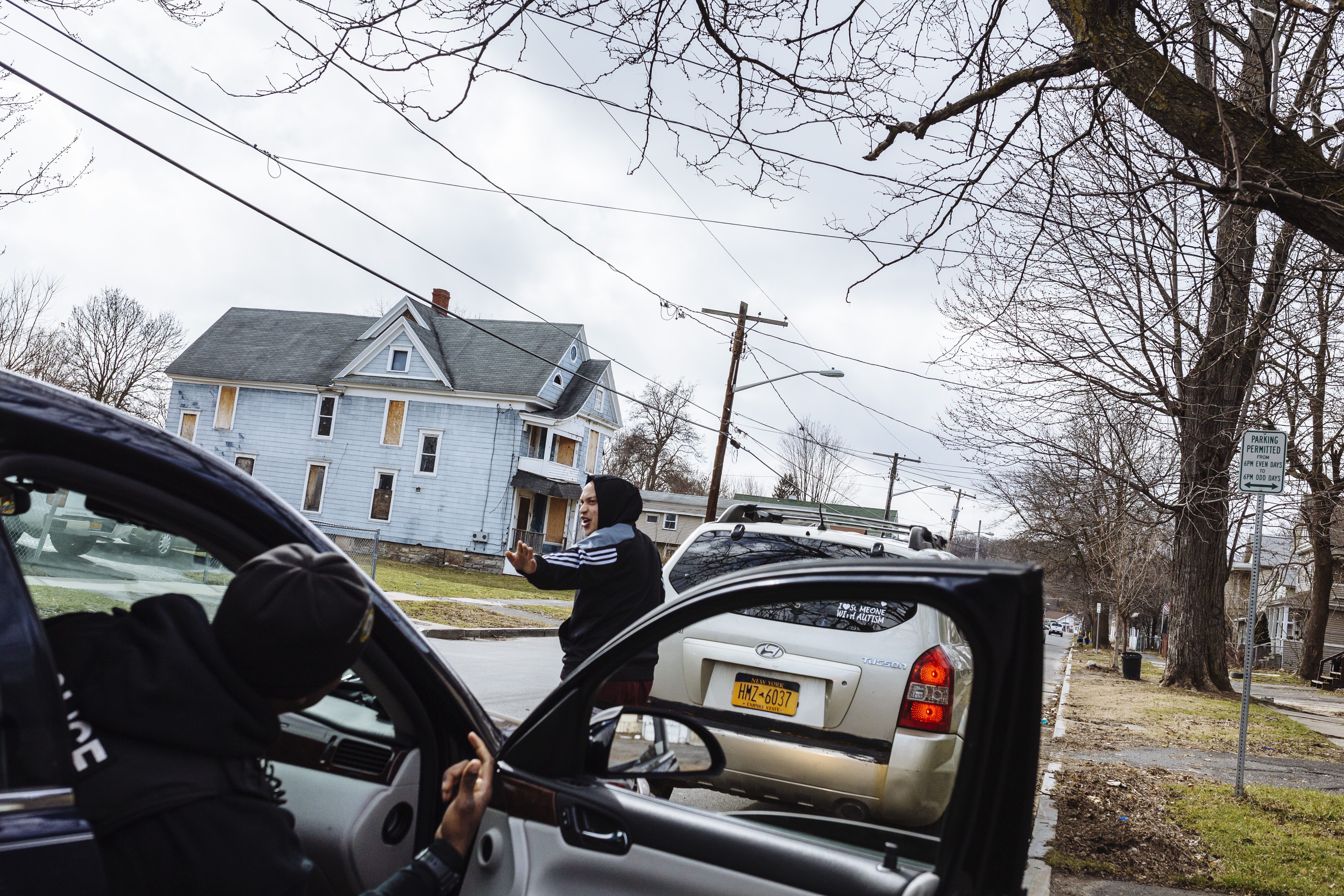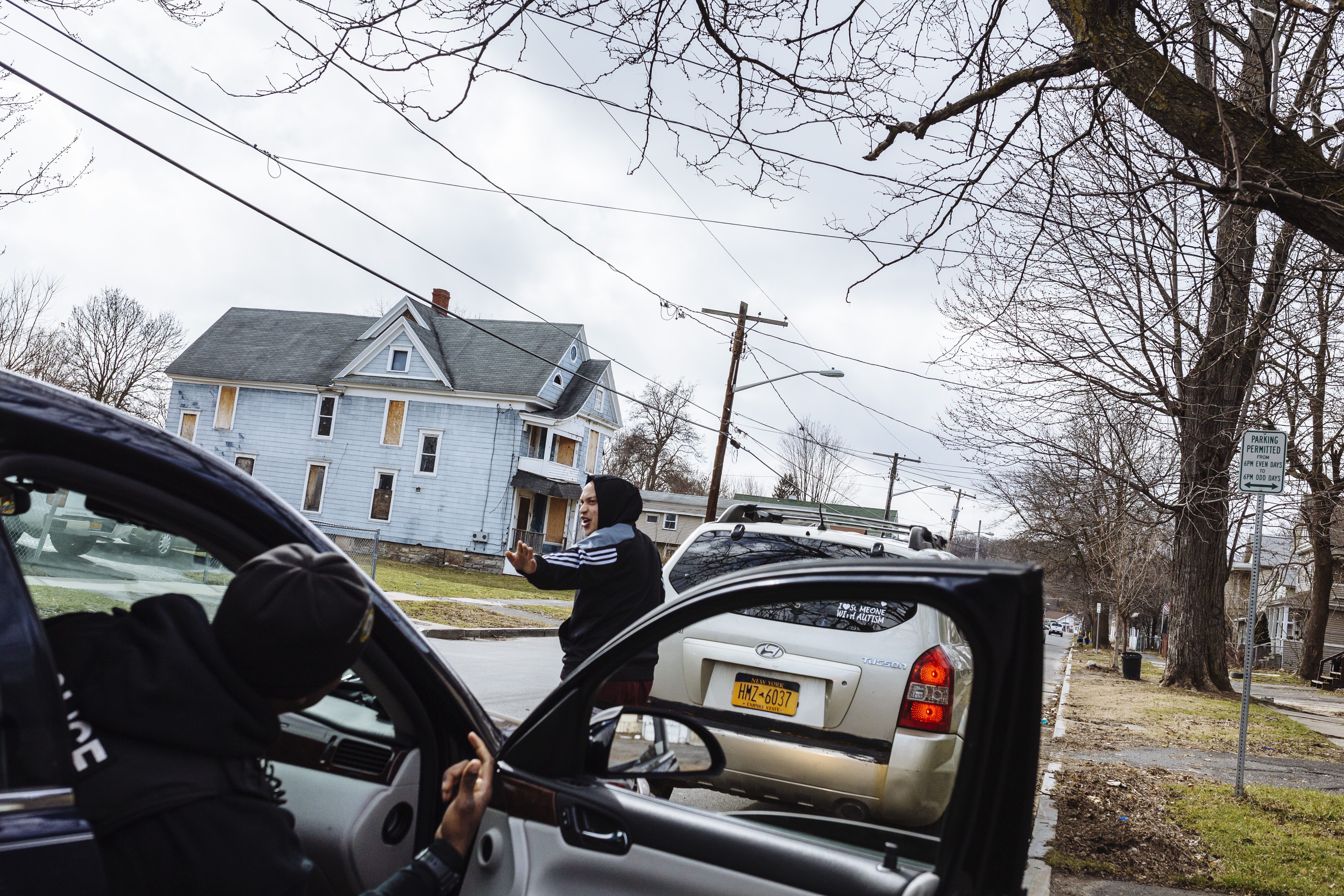 Officer Mims jokes with an individual after being pulled over. He believes police-community relations are getting better and that respect is coming back.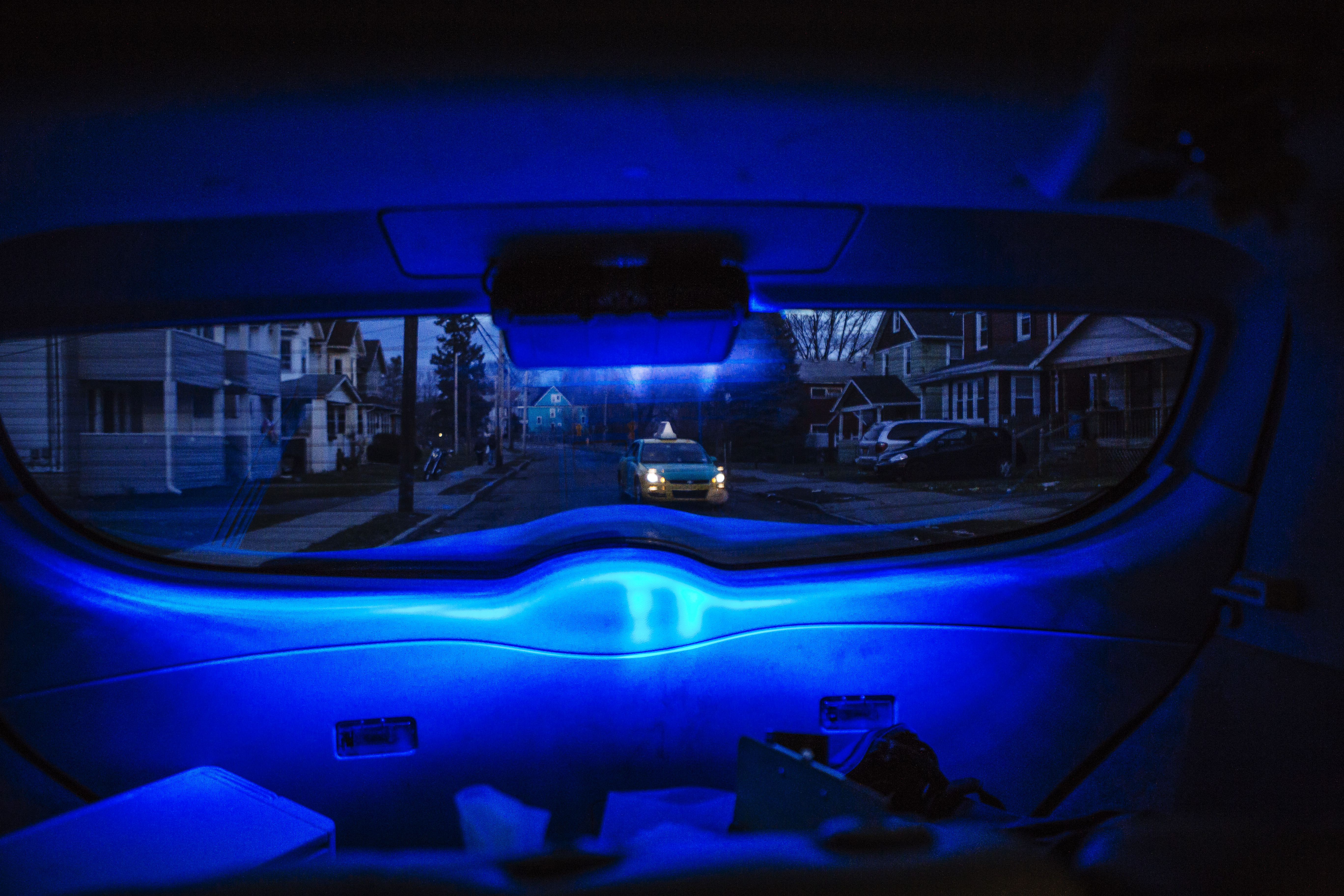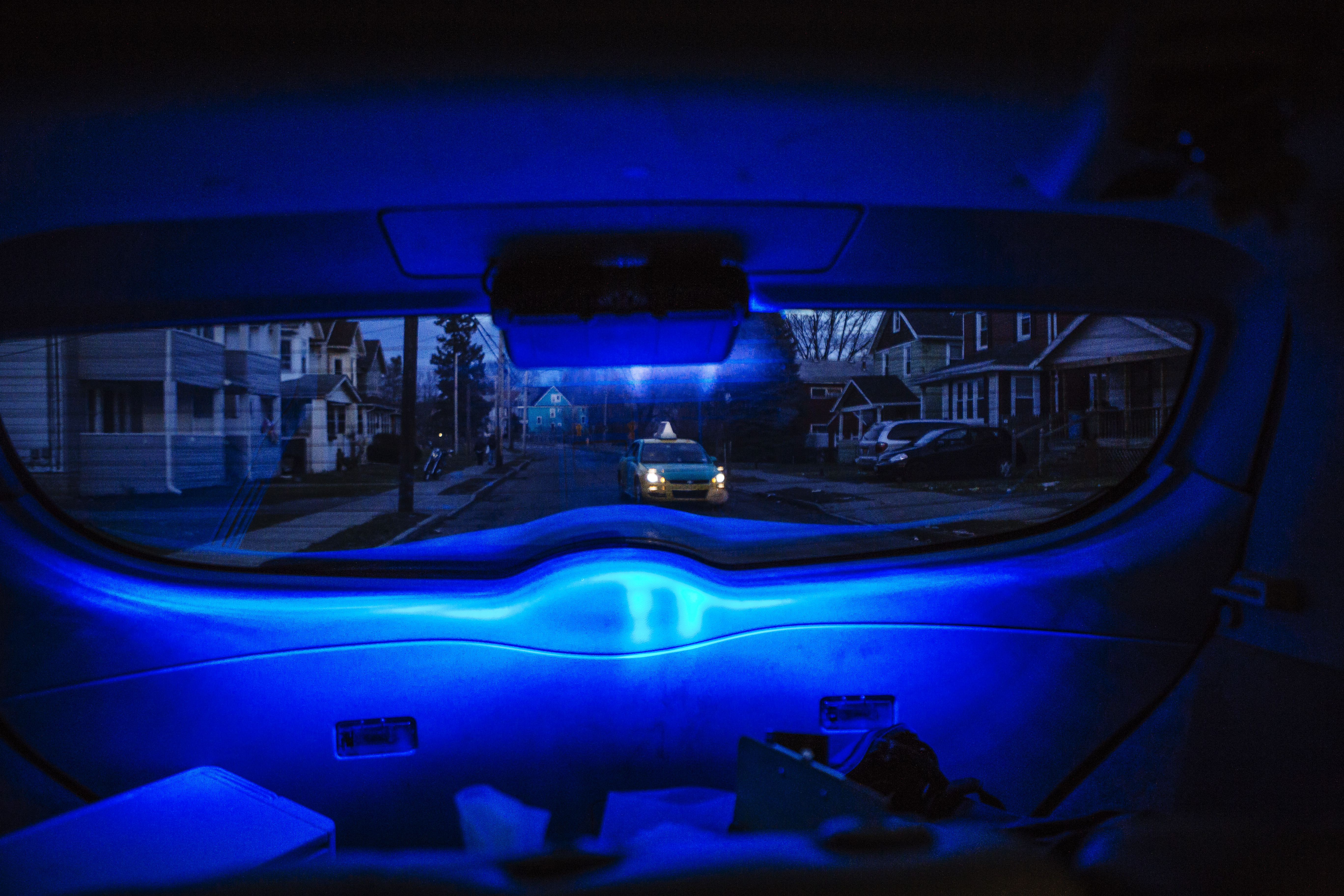 "We patrol these streets, and we want to keep these communities safe. We don't want crime up. We don't want to chase after people every day. We want to help. If everyone came together, I think this city could be flawless almost. As a whole, it would work if we just came together."
He drew his gun and fired ... and his mind won't let go of it
Officer Mims says it's been hard to shake the trauma of a traffic stop gone bad




photography by:
Michael Santiago
It was the first time he had ever fired his gun while on duty — and the first time he ever feared for his life.
Asked if his police academy training had prepared him mentally for what happened April 22, the six weeks he spent on paid leave after it, and the persistent memories of it that will stick with him for months to come, Officer Ahmad Mims wavered.
"Yes and no," he said finally in an interview in late July, after he'd been working for several weeks following mandatory leave while the police department reviewed all the details of the routine traffic stop that escalated into shots fired.
Mims said the police academy for all new officers trains them on how to draw their weapon and when.
"The academy prepares you a little mentally," he said, "but until you experience something like that … anything that's high stress, you just don't know. You can't control how your body or mind is going to react emotionally."
The first few weeks were tough, he said. "You keep replaying everything over and over in your head."
On April 22, Mims approached a Chevrolet Uplander late in the afternoon during what he describes as a simple traffic stop, something he does up to 15 times a day. "On this particular day, the driver was in violation of parking in the middle of the road."
After he told the driver to move to one side of the street, the incident quickly escalated.
"It was a complete 180," Mims said. "He was being very deceptive toward myself and my partner on scene."
The driver attempted to get away by backing up the block, in the process striking Mims and another officer with the van. Mims fired. The driver then led other police vehicles on a seven-mile chase before he was arrested.
"We had to do everything we could to stop the individual from causing any more harm to myself, my partners or other innocent people on the street," Mims said.
Mims did say one training that helped was the Blue Courage course, a two-day workshop for officers focused on stress-management and well-being. He said he learned a 16-second breathing technique to cool him down in moments of high-stress.
He and a half-dozen or so other officers have completed a weeklong "train the trainer" session to share what they learned with other officers.
"It's something that you have to buy in to," he said. "In my eyes, it really does work. It's something I use every day and did after that incident."
In the stress of the moment back in April, Mims says time slowed. His memory seemed to stretch the pace of events, which in reality took only a few minutes. This is known because city cameras captured the ordeal.
"After the initial encounter to the very end, in my sense of it, it seemed like 10 minutes."
Mims said it was not until he read a news article on syracuse.com the week following the incident that he realized children were in the back of the vehicle. "I sit and think, for him … to drive recklessly and hit officers with kids in the car, can you imagine what he would have done if he was by himself?"
Hearing that kids were in the vehicle, which Mims said had heavily tinted windows, hit close to home for him because he has a 5-year-old son of his own.
"It hit me emotionally just knowing that because I love kids. I stop every day when I'm working to talk to kids in the city."
Support from his parents and spending extended time with his son Ayden, who lives predominantly out of state, helped Mims get through the mandatory leave.
"We did everything in the world," he said of two weeks he spent with his son. "I just thought about holding him, loving him, and spending my time with him. That's what I needed."
For the first couple days after returning to work June 27, he kept second-guessing himself.
"It was good to be back, but it was also nerve-wracking. Yes, I know how to do this job, it's something I have trained hard for, but still after being in a silo for so long, you start over-thinking …
"And then walking up to a vehicle again and not knowing what is going to happen, that was the biggest [challenge]."
PROCEDURE AFTER USE OF FORCE
When an officer uses force, the Syracuse Police Department policy is to conduct an in-house investigation to ensure officers acted appropriately, did not use excessive force or fire a weapon for no reason. "Investigators want to see what the circumstance were behind it," Mims explained.
An officer remains on the sidelines for 72 hours after such an incident, then gives a statement to the chief and detectives. Next an officer waits to be cleared. This varies for each incident and depends how long the investigation goes. Internally, the department must clear the officer, and externally, the district attorney conducts a review.
Seeing a counselor is required. Officers may meet with the police chaplain or their own minister. Mims said he met with someone once or twice a week. He said the idea is to assure that the officer's physical, emotional and mental state is good.
"The minister reports back to the chief if you are good and ready to go back to work or if you need more time."


An elite Syracuse police unit works to turn routine traffic stops into much more
12-officer team responds to shootings, but the daily grind returns biggest rewards


written by:
Justin Mattingly


photography by:
Michael Santiago
The familiar call goes out over the police radio: "Shots fired..."
Within seconds, two Syracuse police officers turn around from their patrol on the west side of the city and speed to the crime-plagued south. They weave in and out of traffic as they race to the address.
By the time the pair arrives, there's a handful of others already there — with more on the way. They're not wearing the normal blue police uniform but rather military green pants, sweatshirts with bullet-proof vests, and winter hats. The search for a fleeing suspect begins.
The officers are part of the Syracuse Police Department's elite Crime Reduction Team, a 12-man force that targets areas with high crime rates and heavy gang activity. They're experienced officers who rack up drugs, guns and cash from criminals.
"They're the ones who are out there every day engaging the worst of the worst, the baddest of the bad, pushing them back off their heels, getting the guns off the street. They're worth their weight in gold," Syracuse Police Chief Frank Fowler says.
Police cameras captured the recent call, near a corner store. The officers track the suspect through snow, and after conversations with neighbors identify the home — two doors down from a house with an "O.G.s Against Gun Violence" sign in the window — where the suspect's hiding and now cornered.
Dressed in a Hawaiian shirt and no shoes, he's led out of the house and stuffed into the back of a police car. The Crime Reduction Team, accompanied by a few regular patrol officers and a member of the New York State Police, begins the search for the weapon.
They find it tucked just inside a fence in the backyard of an abandoned home, and each member of the search gets a turn looking. One voices a clear message: "The CRT just f***ed you," he declares.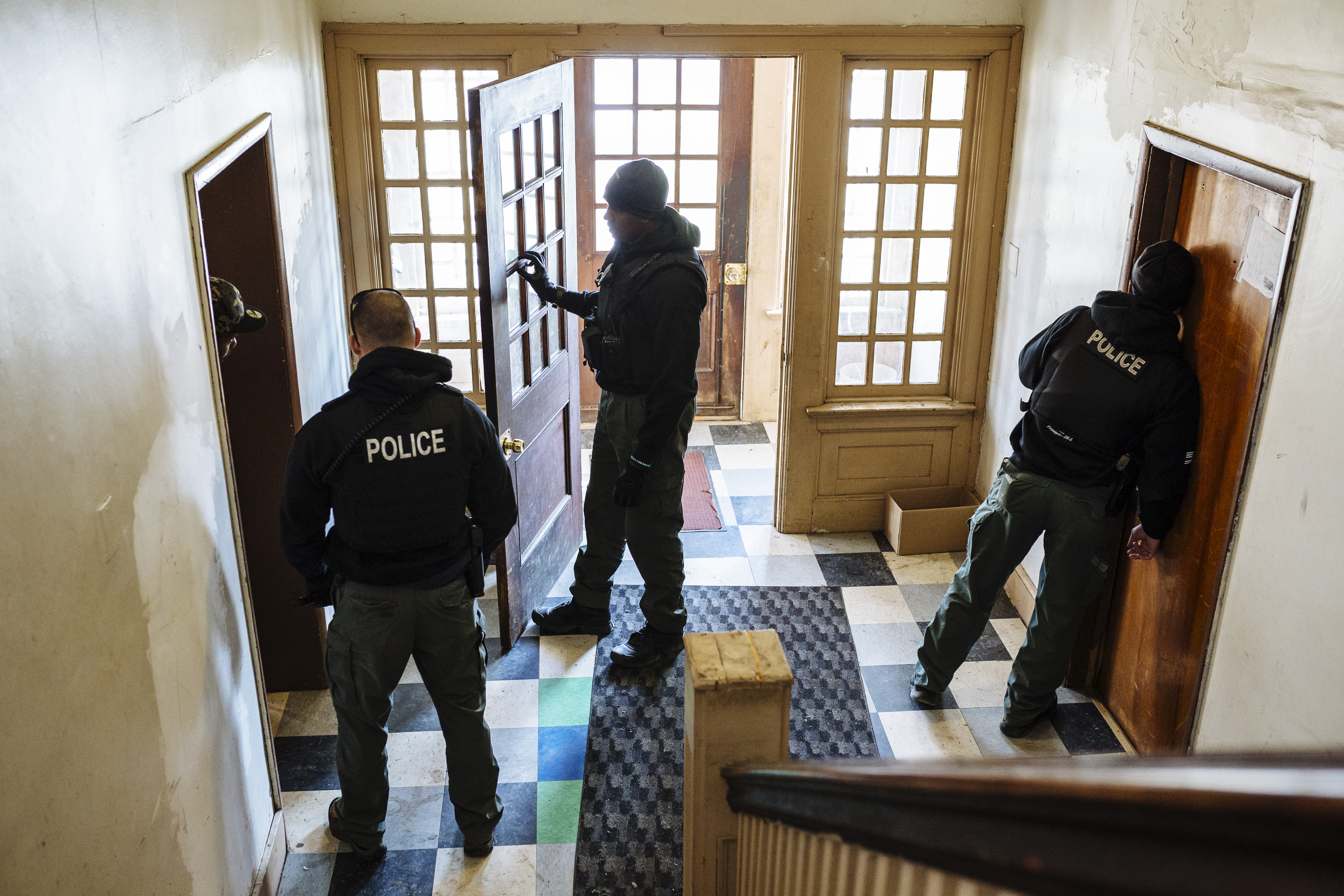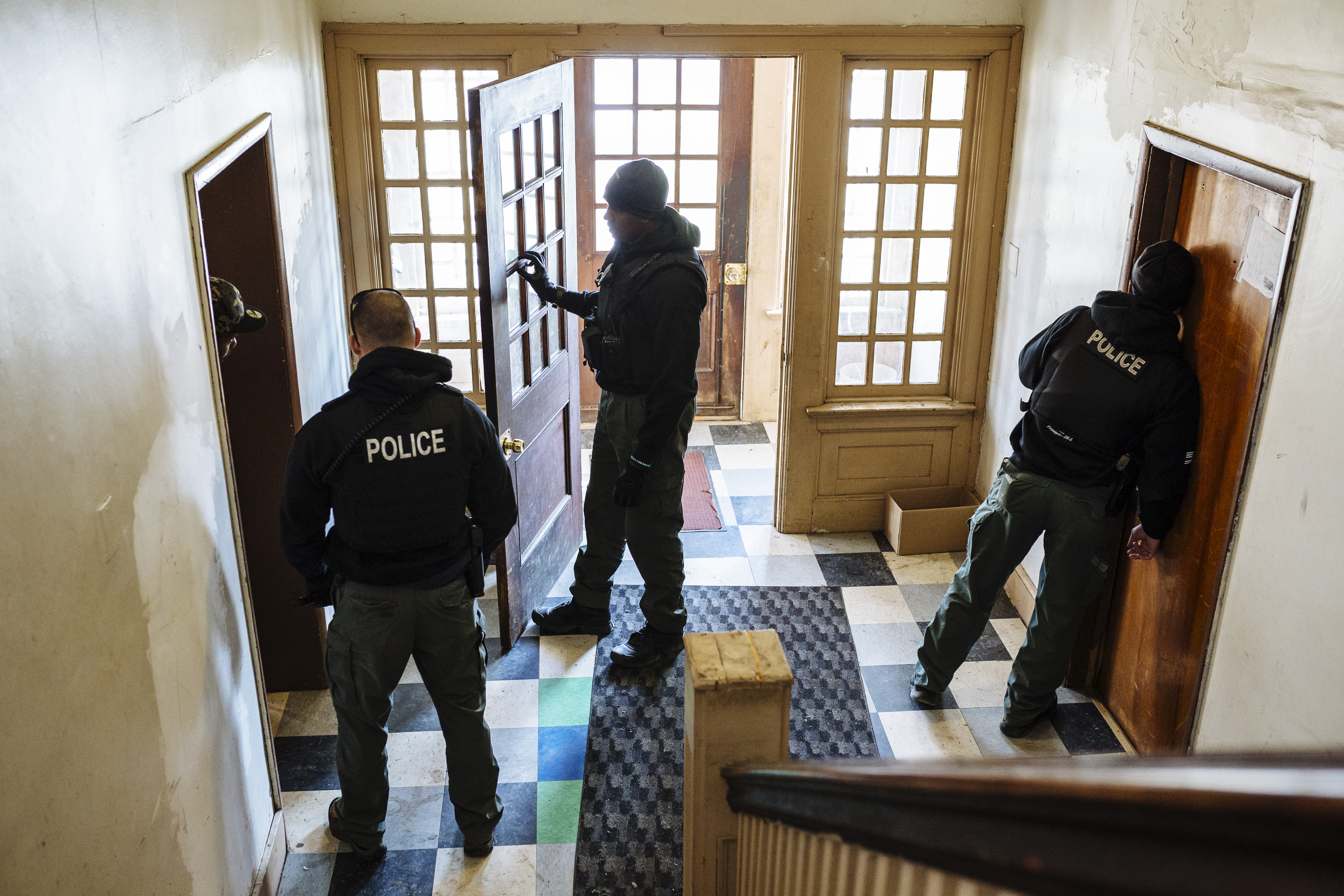 After a stabbing, the Crime Reduction Team, begins to search for the suspect, arriving at the suspect's last known residence. A neighbor explains to officers that earlier in the day he heard loud banging coming from the suspects door but had not seen the suspect since.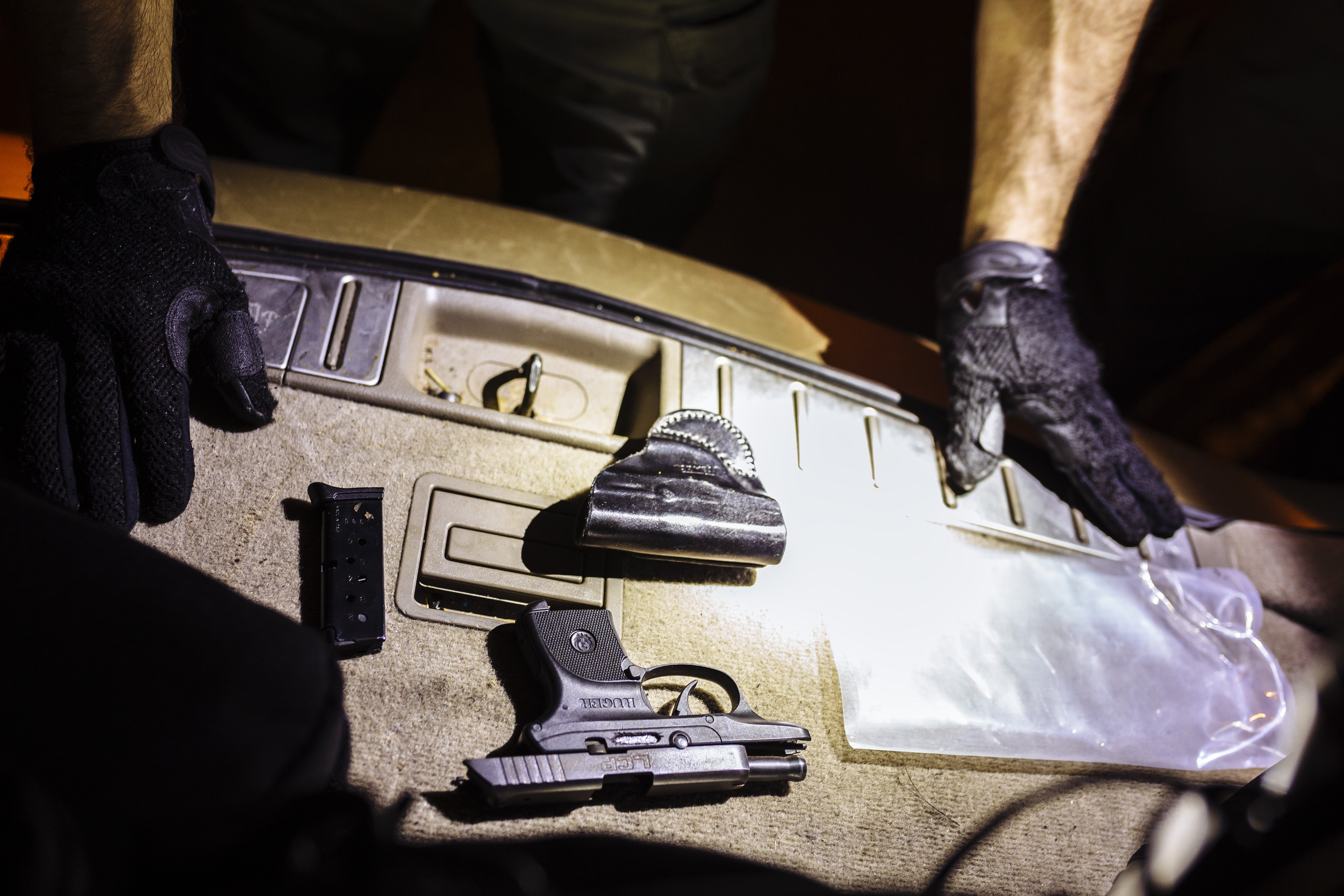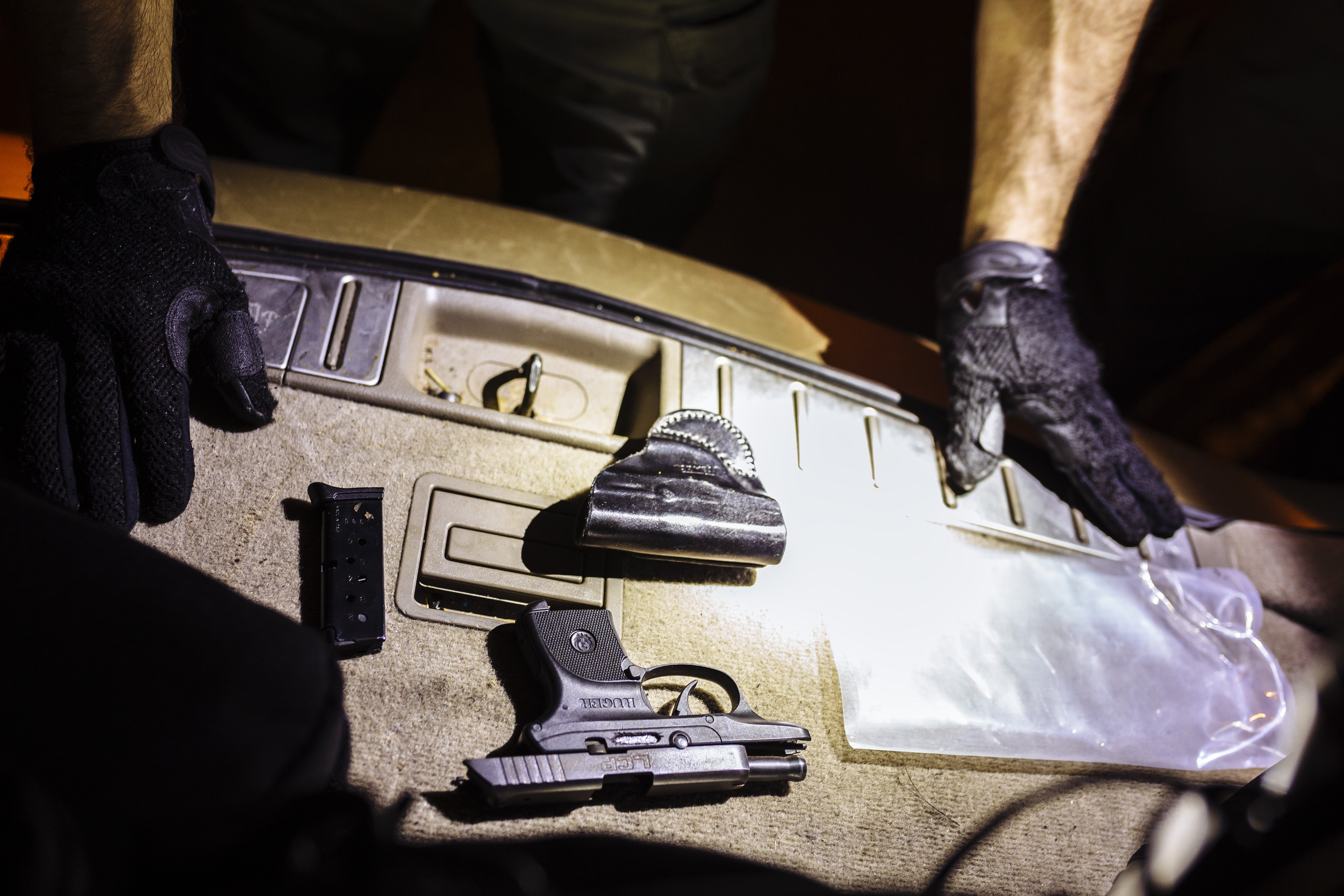 The Crime Reduction Team's top priority is to confiscate illegal guns in hopes of reducing violent crimes that have been on the rise in Syracuse. In 2016, the team successfully removed 108 illegal guns from Syracuse's streets.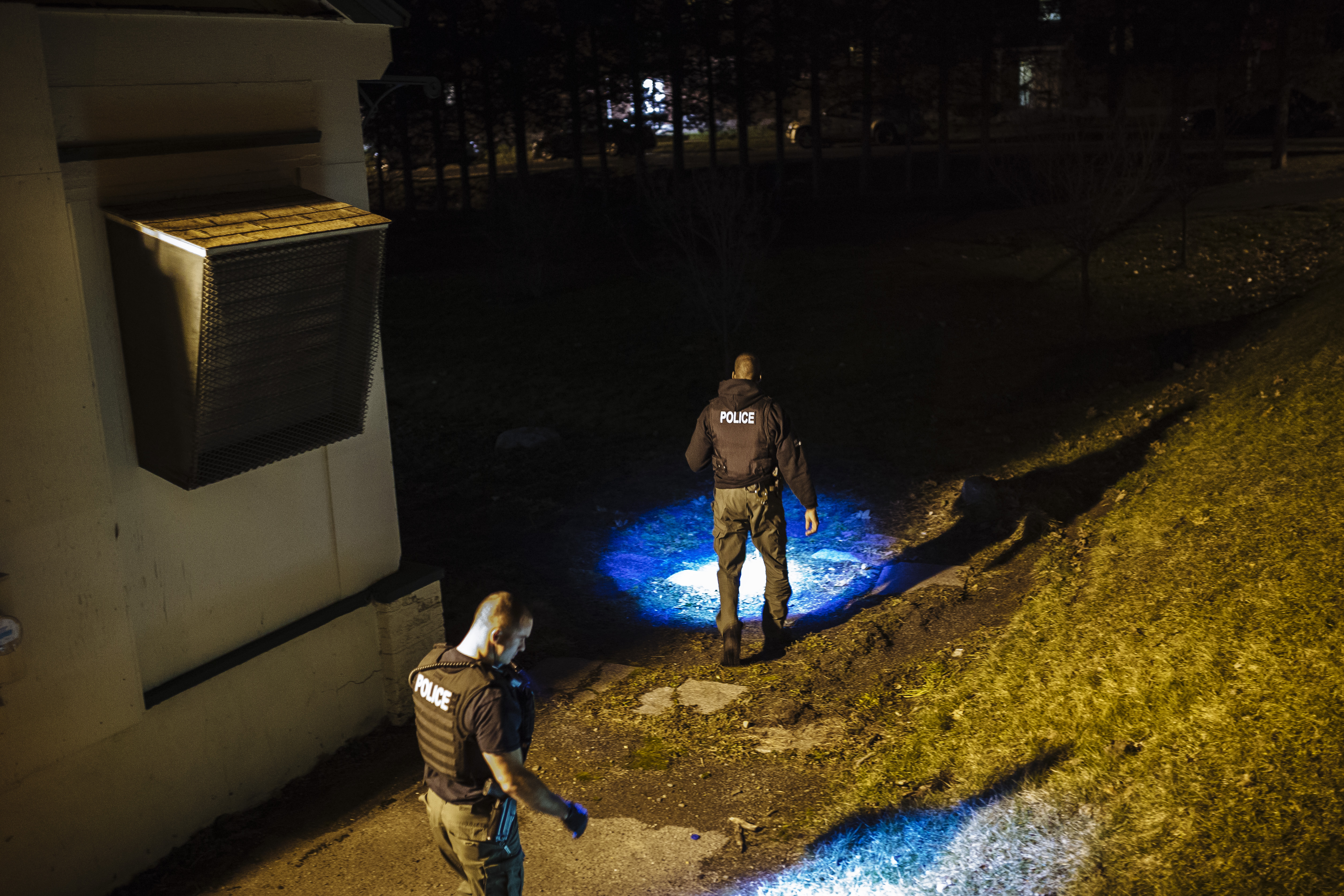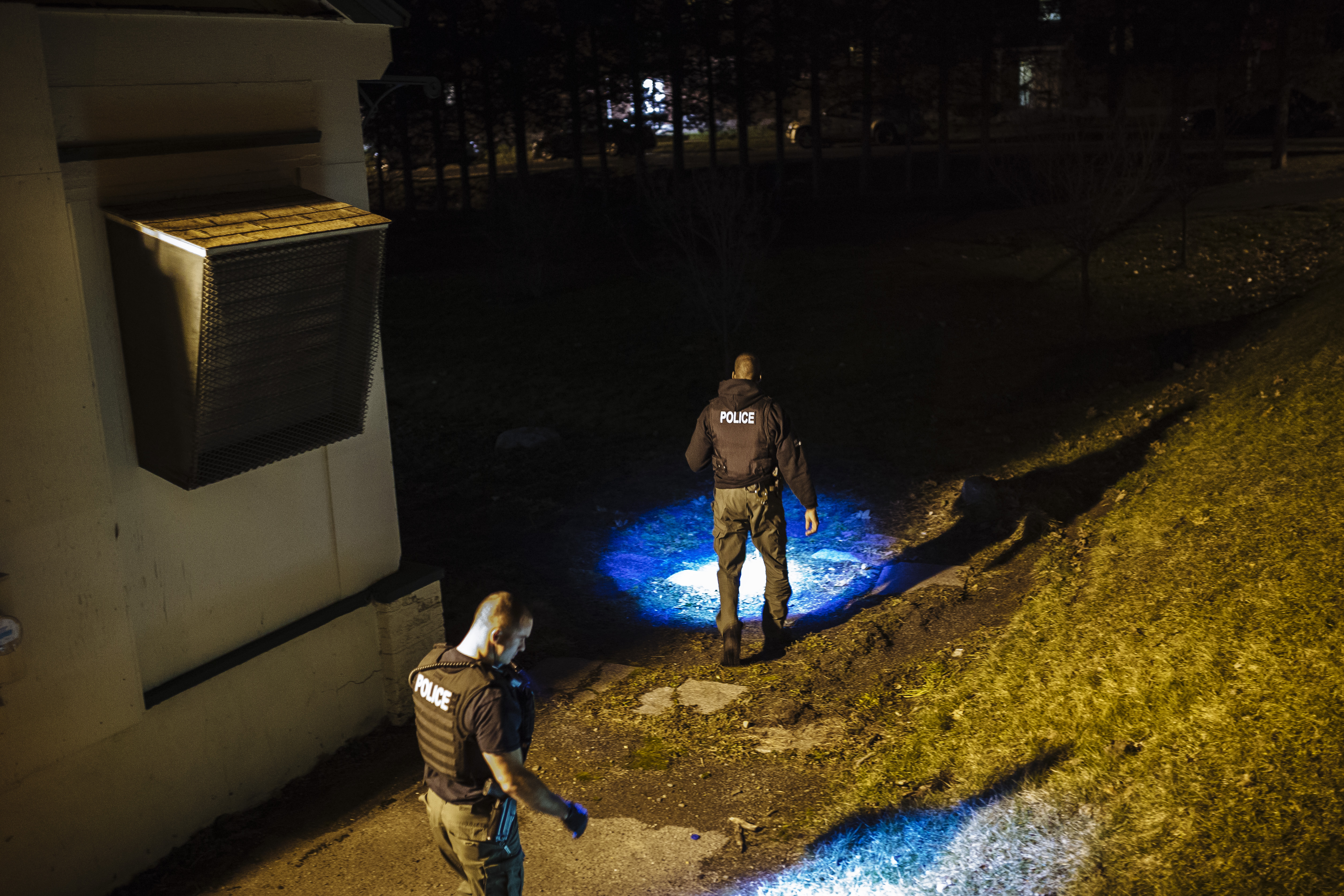 After hearing gunshots come from a known high-crime area, the Crime Reduction Team rushed to the location, conducting a weapons search. Days earlier, the team recovered a gun in the same location. Removing guns from the streets is the team's main priority due to Syracuse's spike in homicides in 2016.
Each team's work starts with regular patrol — the cornerstone of their work. They drive through specific areas of the city and look for clues during normal traffic stops, which make up about 90 percent of the duty. Members will write tickets and issue warnings the way they did in their earlier years on patrol, but that's not the goal of these specially deployed officers, which is to turn routine stops in high-crime areas into arrests that catch criminals and seize drugs and weapons.
Just before 5 p.m. on a Saturday in February, two CRT officers pulled over a car on South Avenue for windows that looked to be too tinted. They ran the driver's license and found that he had a record.
"You always have to be a little cautious on the job," said CRT member Brendan Cope, the longest-tenured member of the team. "You don't know what you're coming across."
This time, though, there was no altercation and no major suspicion. The driver was let off with a warning. But the stops do yield arrests and seizures.
"Policing nowadays with limited resources, you have to add either a data-driven strategy or a focused-deterrence strategy or even a combination of the two," Fowler says. "You can't effectively do focused deterrence without having a unit like the Crime Reduction Team."
That strategy has worked: The team confiscated 408 grams of cocaine, 9,515 grams of marijuana, $95,000 in cash and 108 illegal guns last year. The gun recoveries are nearly double compared to 2014 (56) and up from 62 in 2015.
In the team's Erie Boulevard headquarters, the room is a wallpaper of pictures of guns seized over the years. There's a running tally for each member and a stack of photos on a desk. They've run out of room on the wall.
They keep the photos as mementos — and as motivation.
"It's the law," said CRT member Ahmad Mims. "We're here to enforce the law."
(More reading: "Community guns" shared by criminals are used in many crimes)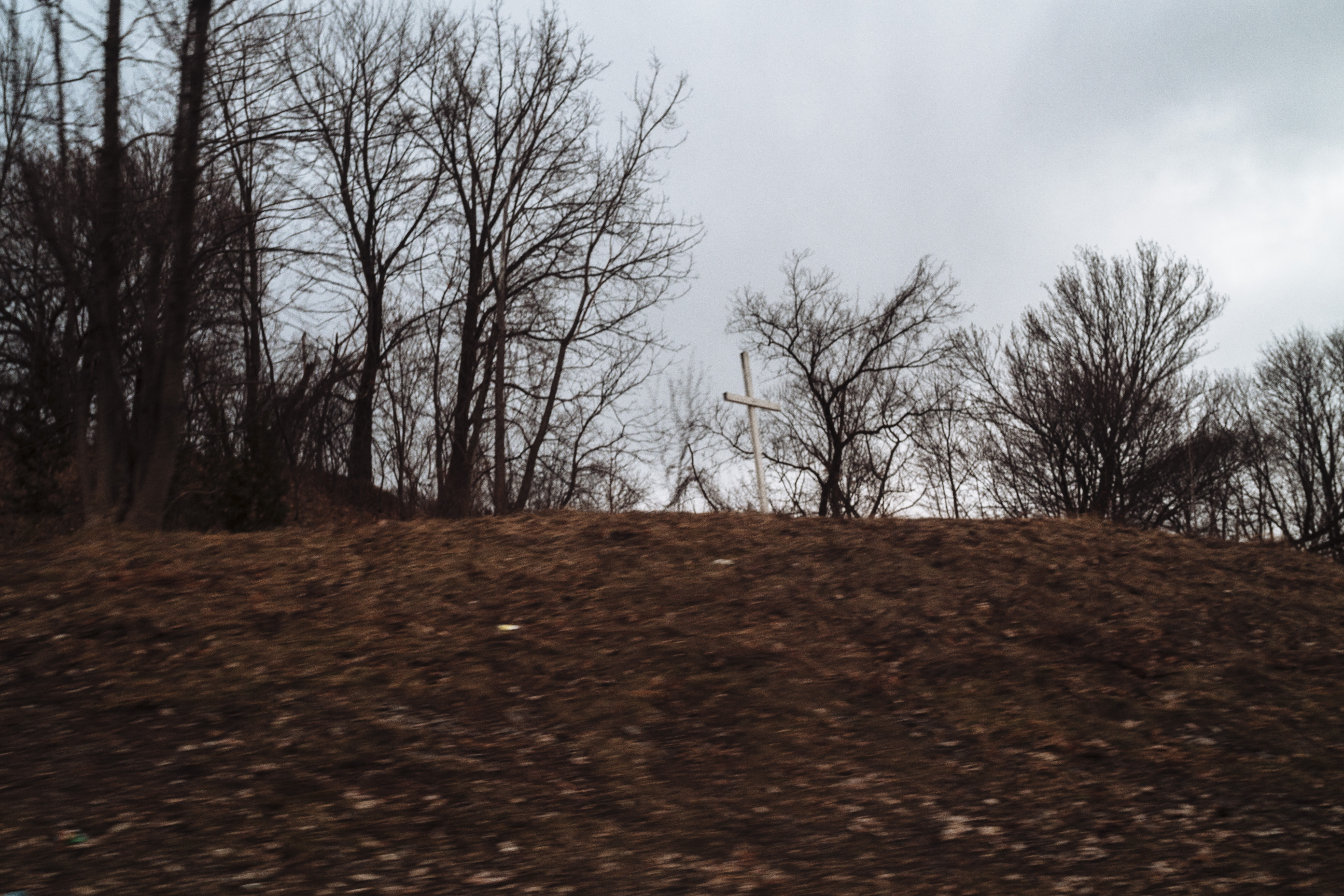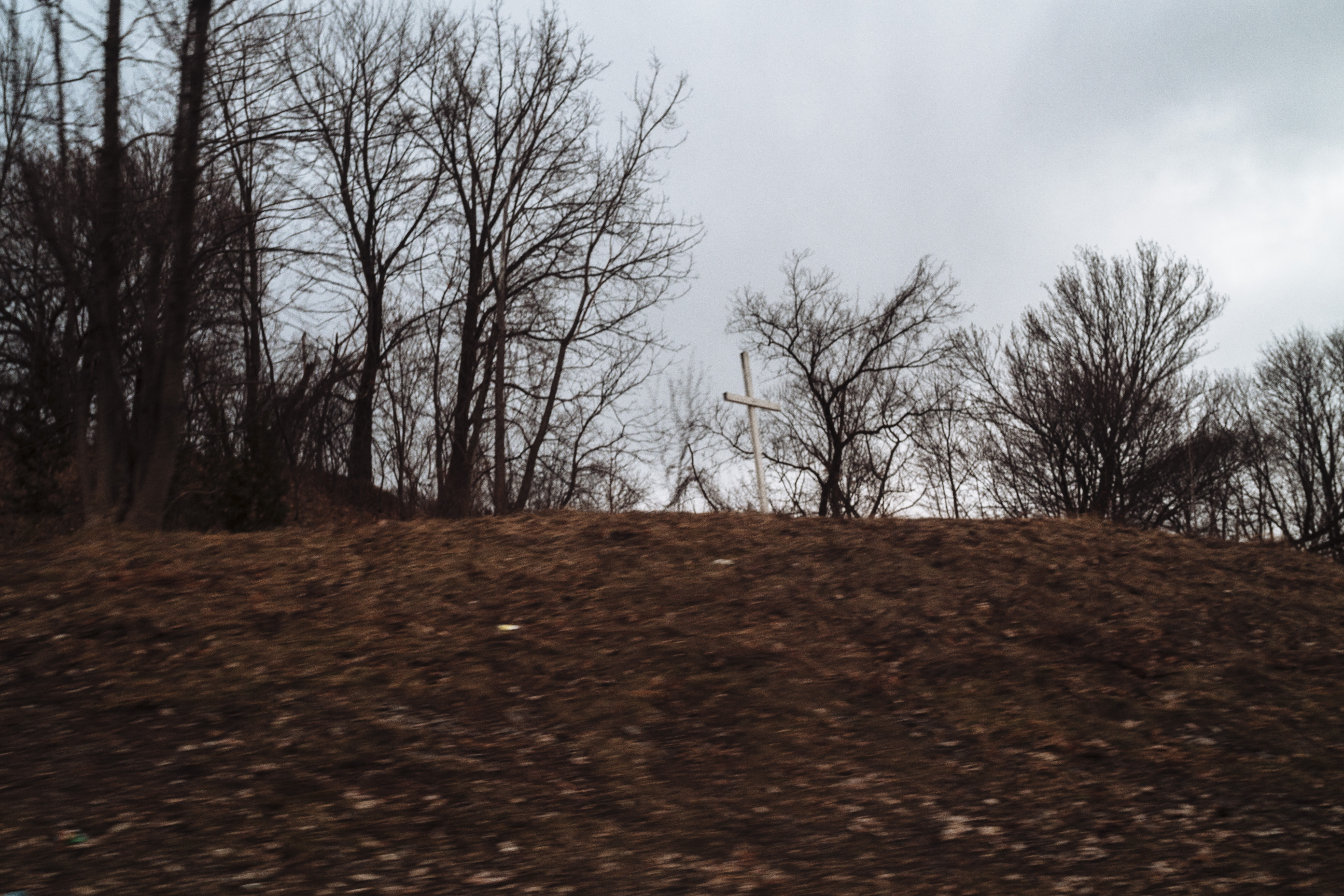 There were 30 homicides in Syracuse in 2016, of which 19 were victims of gun violence, making 2016 the deadliest year in the city's recorded history. By the end of 2016, the SPD made 16 arrests related to those homicides.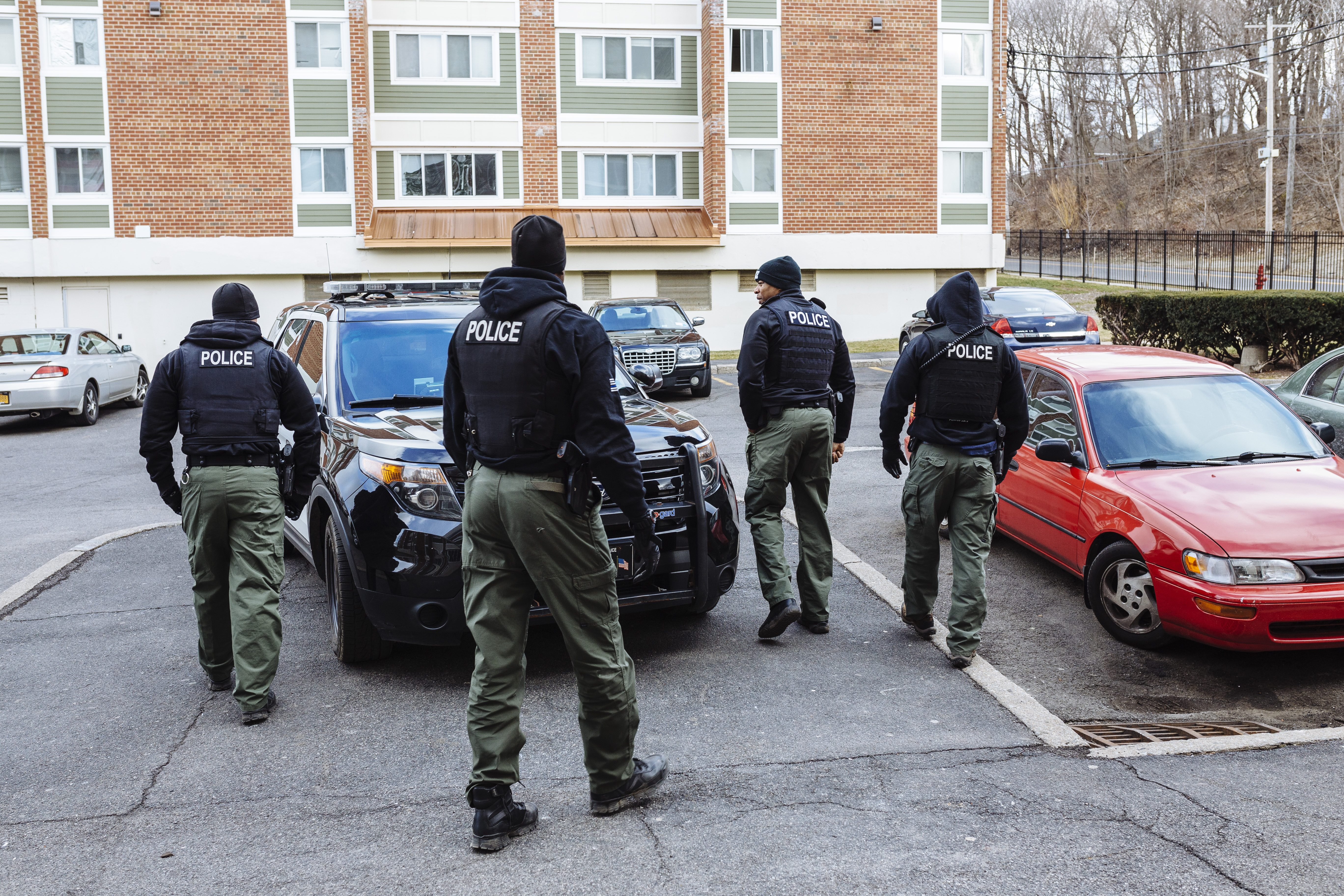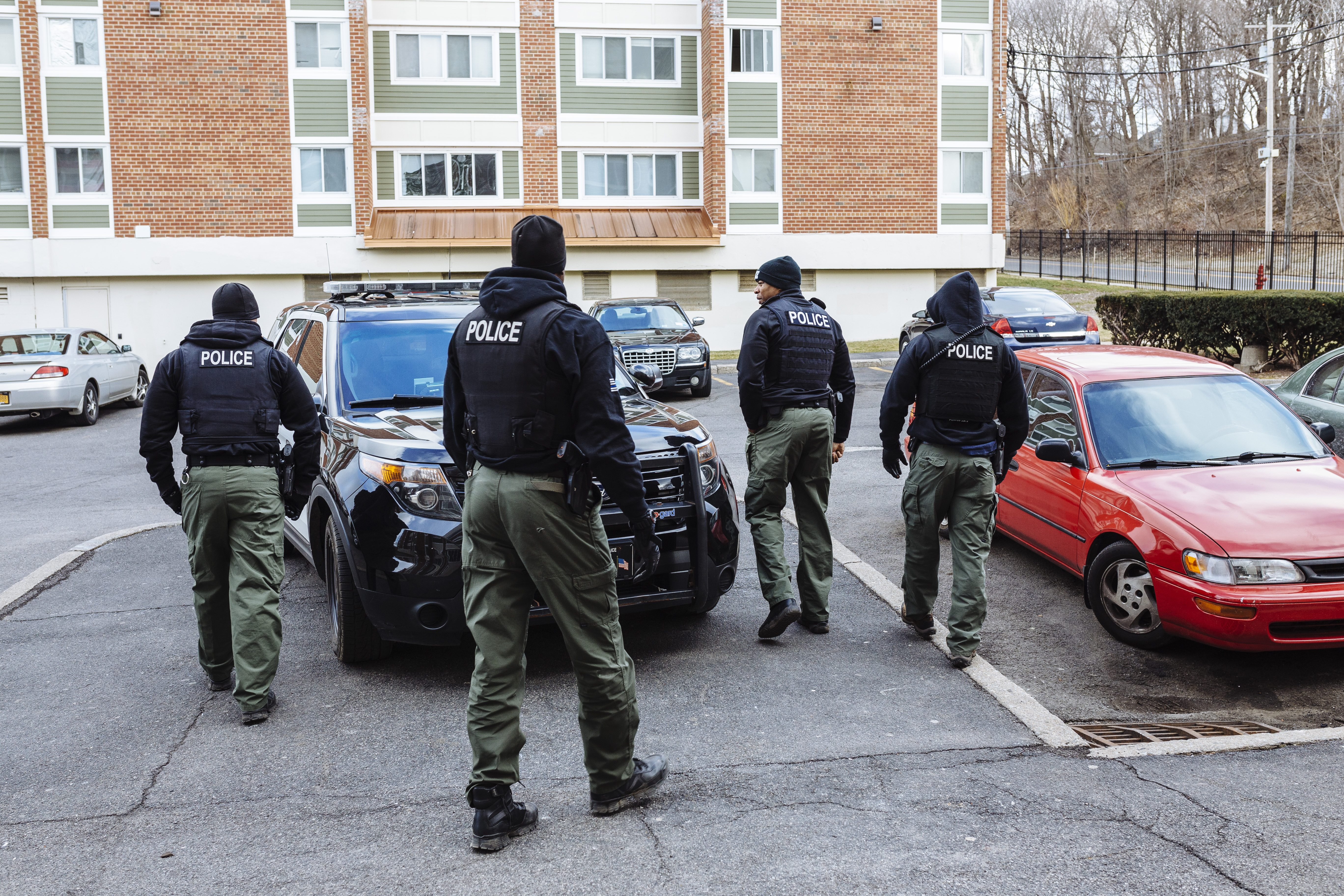 The Crime Reduction Team is a 12-man unit that describes its strategy as a proactive approach to policing.