Officer Dennis Burlingame graduated from the police academy in 1997, and shortly thereafter, in 2001, was involved in a serious on-duty car crash that took him off the job for six months. Later in 2011, he took on his current role with the community relations office.
'Officer Friendly' teaches Syracuse police can be our friends
Dennis Burlingame transitioned from patrol to PR, and embraces the mission


written by:
Max Jakubowski 


photography by:
Bryan Cerejio
ALSO FIND:
> Yearly events sponsored by SPD to connect with the community
 
A room filled with 20 rowdy and bouncy second-grade students from Faith Heritage School suddenly goes quiet. In walks Syracuse Police Officer Dennis Burlingame with a firm and serious look on his face, intimidating some of the students. Twenty minutes later, Burlingame is passing out colored SPD sunglasses, even sporting a pair himself, with the kids surrounding him, bombarding him with questions. While the students might never know his true name, Burlingame is perfectly fine being called Officer Friendly. 
Burlingame joined SPD in 1997, fresh out of the police academy. One of his brothers was a cop in the area, influencing his decision to go down the law enforcement track.    
He initially worked the midnight patrols. After working that shift for several years, he transitioned over to the mid-day and evening shift, working from 11:30 a.m. to 7:30 p.m.
"I was always in bed by 8 p.m." Burlingame said, remembering how tired he was working those shifts. 
In December 2001, Burlingame was responding to a burglary call when his patrol car was T-boned by another car in an intersection. Burlingame broke his femur and injured his knee and ankle, keeping him off the force for six months. But he rebounded after vigorous rehab and was cleared to return to active duty. He continued to patrol for the next 10 years. 
In 2011, SPD had an opening in its community relations section, in the Officer Friendly role. Burlingame applied and was selected. He's embraced it, seeing it as a positive position change for him.
As Officer Friendly, Burlingame is active at events across the Syracuse area. This spring, he organized a chess event at Southside Academy Charter School, matching officers with students in a relaxed atmosphere, and snapped photos during the annual SPD vs. Syracuse Fire Department charity basketball game. Regardless, Burlingame says, he is always willing to connect SPD and its officers with the people it swears to protect.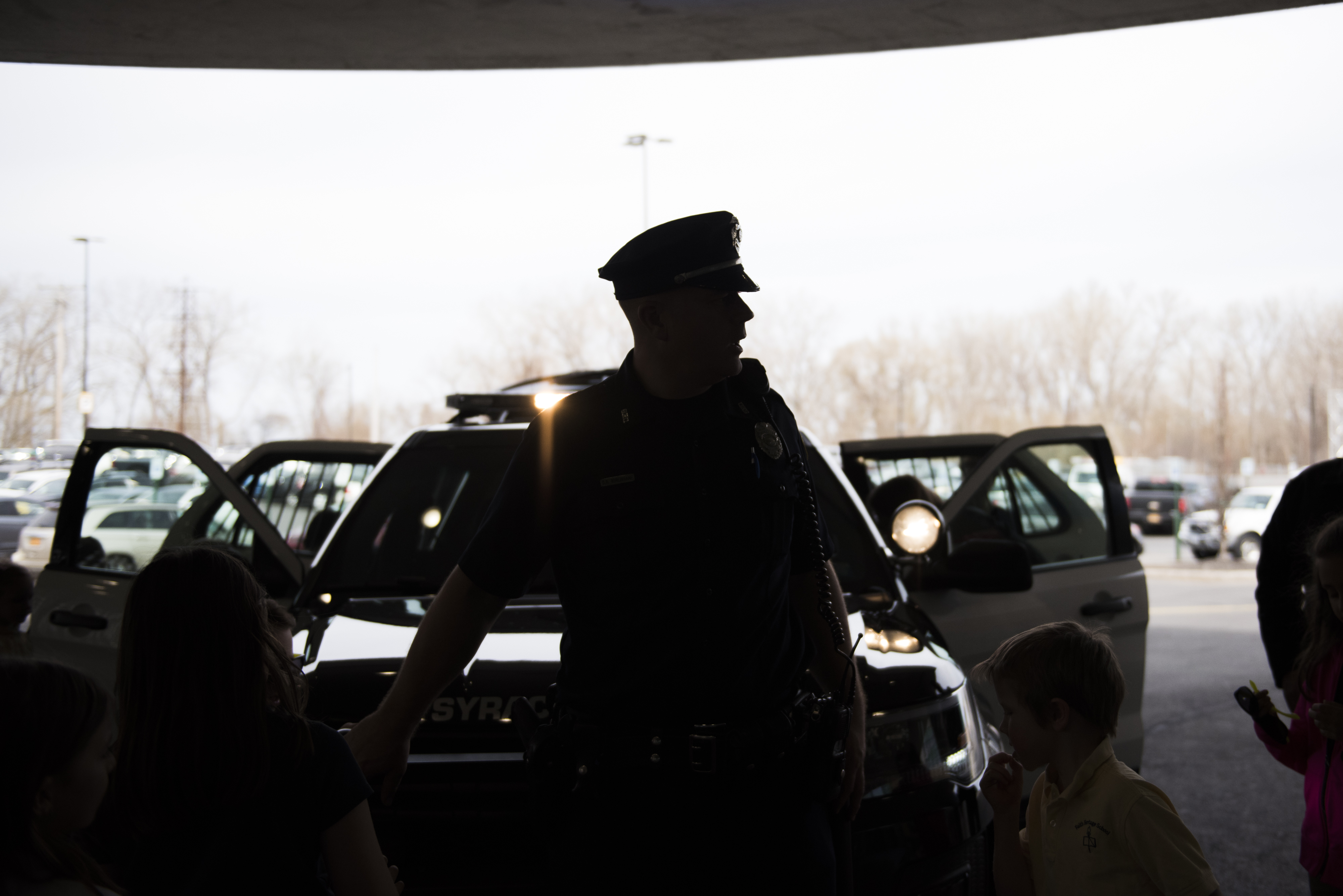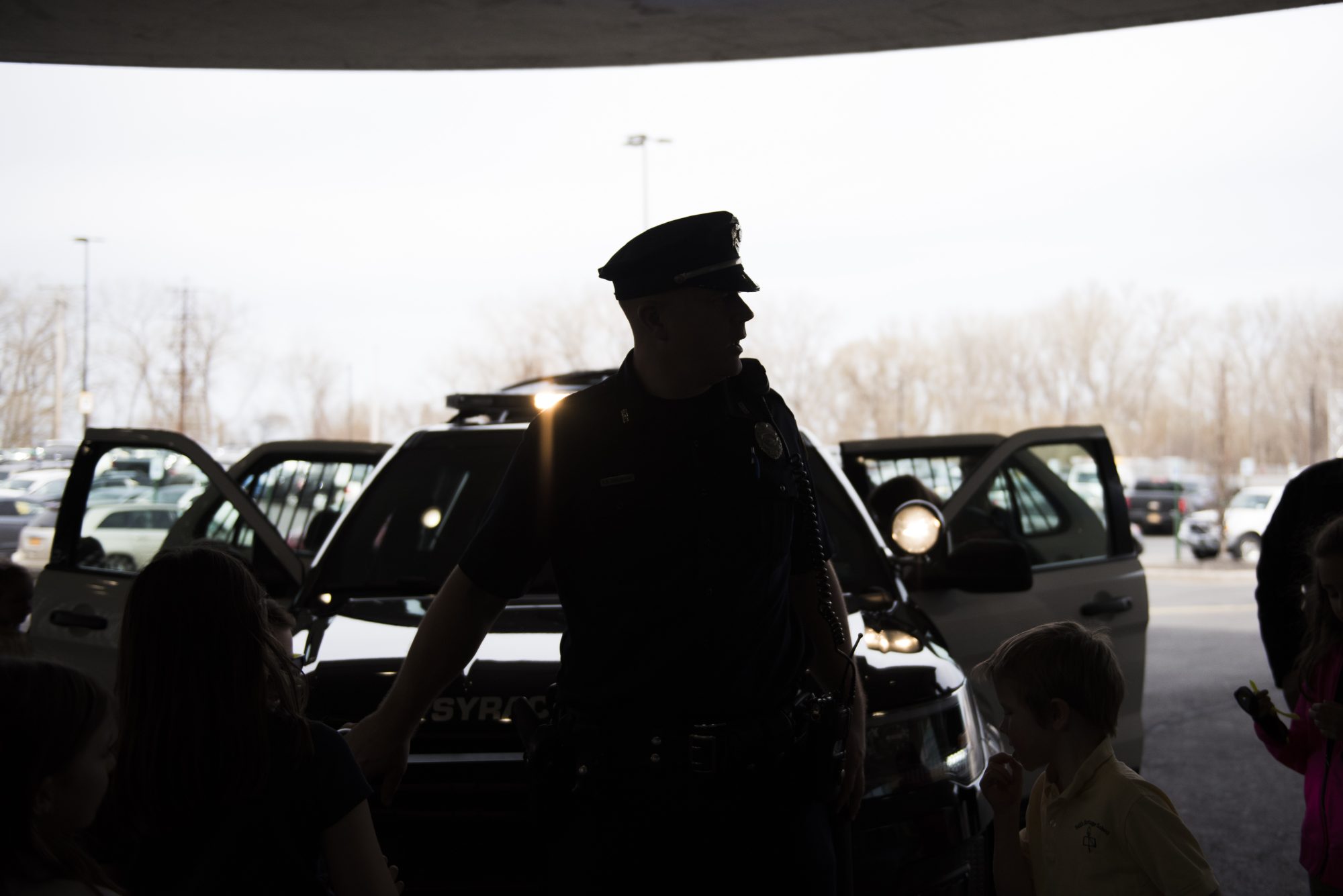 Officer Dennis Burlingame stands in front of his patrol car after showing it to second graders at Destiny USA, a Syracuse mall. He has worked as Syracuse Police Department's community relations officer since 2011.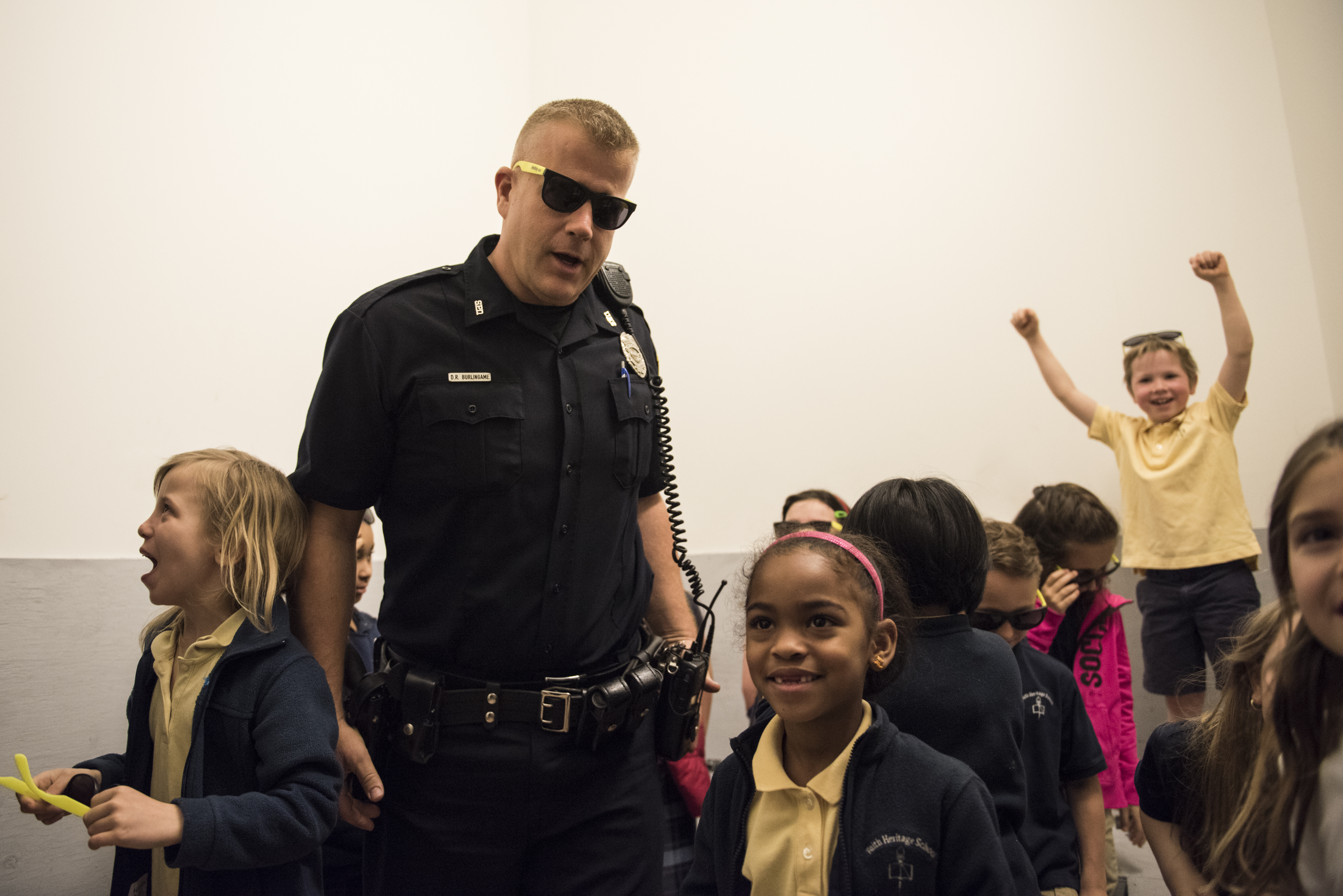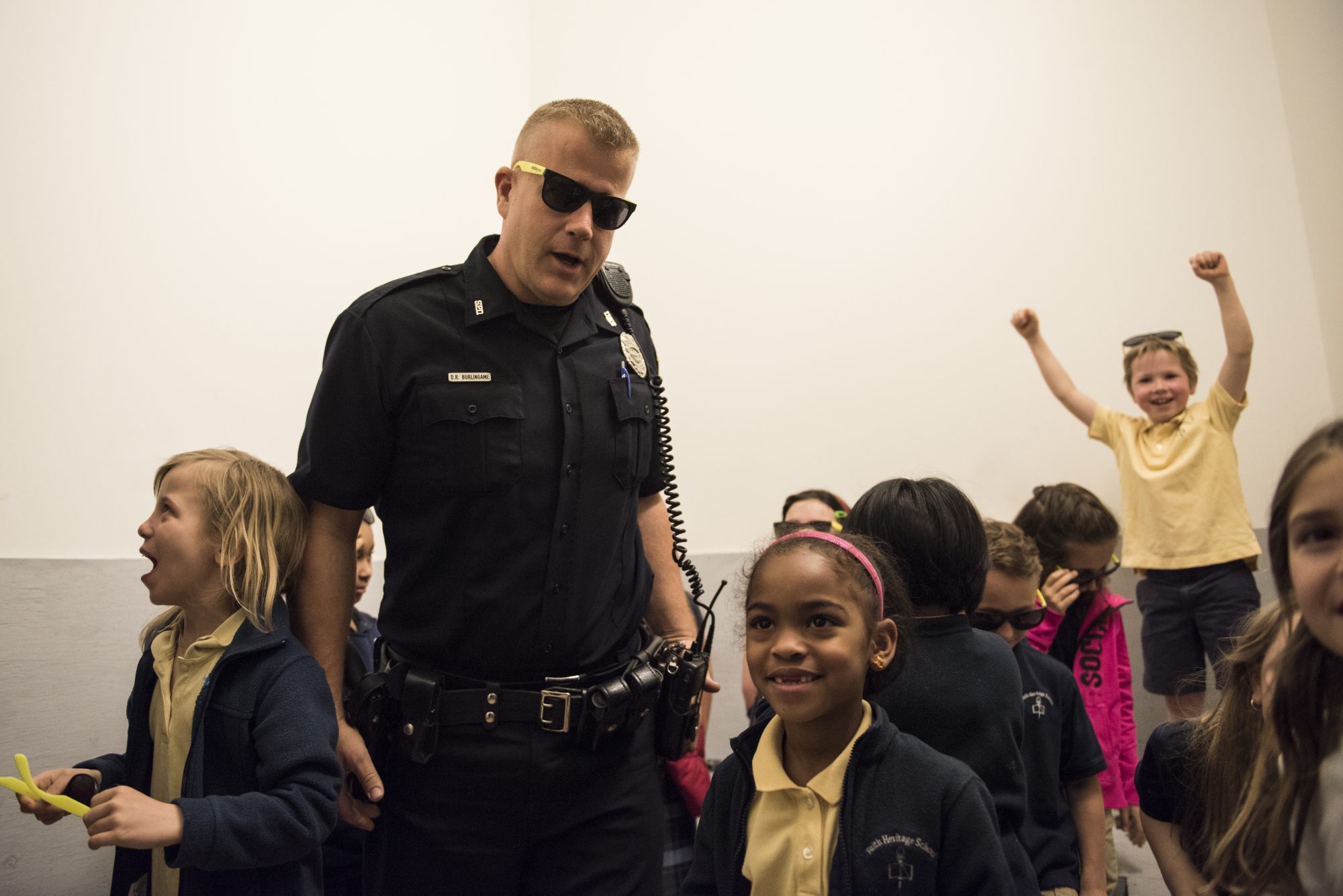 The second graders from Faith Heritage School react after taking a photo with Burlingame in the mall's holding cell. Officer Burlingame says he's just trying to do his part to change the world.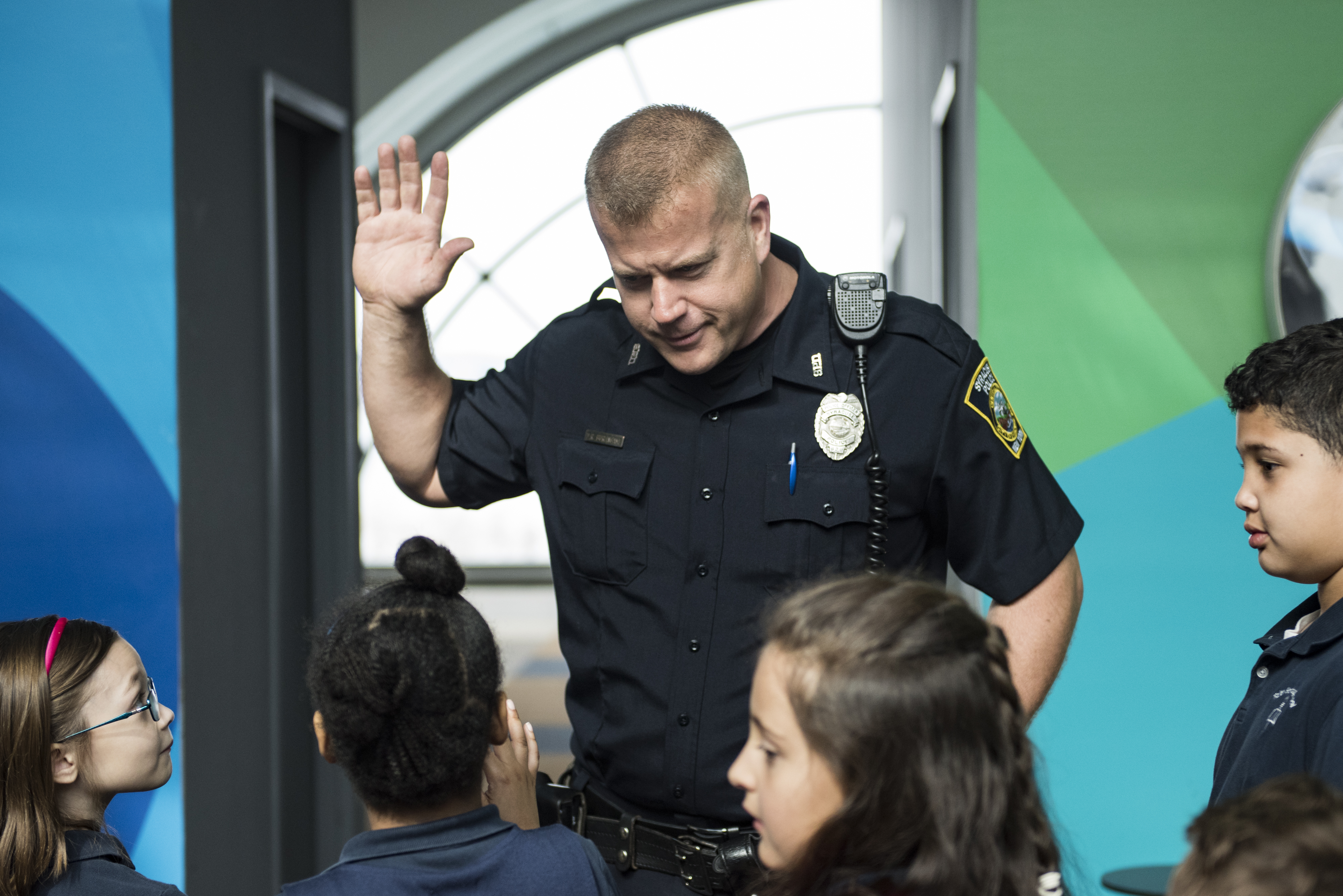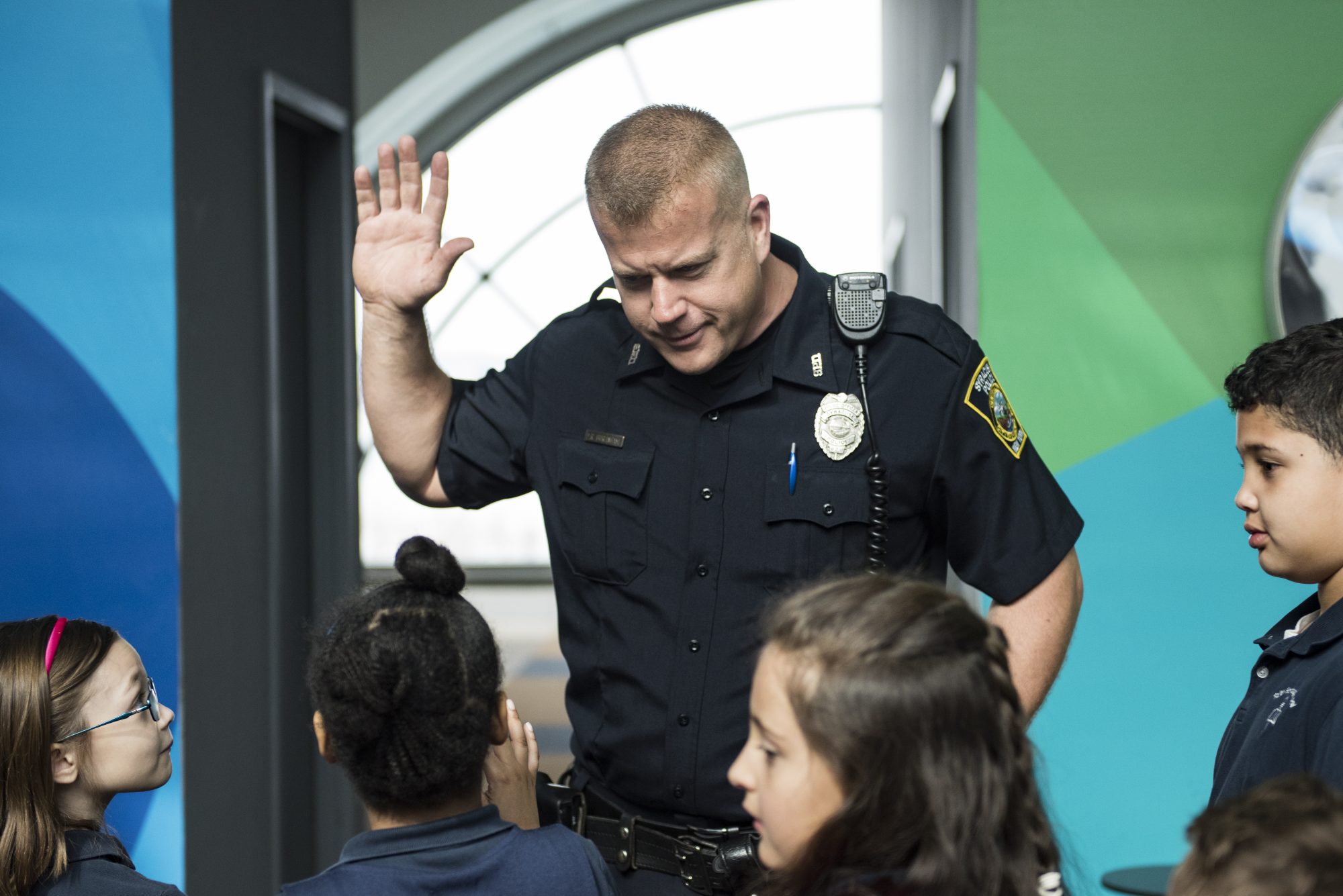 Officer Burlingame teaches second graders about security at Destiny USA, a Syracuse mall. He credits his brother for inspiring him to become a police officer.
Burlingame also coordinates the SPD internship program. The applicant pool can get as high as 900, but that number is quickly reduced to 200, according to Burlingame.
During the internship recruitment process, SPD does give preference to black males and females, as well as other minority candidates and city residents. Burlingame says it's part of the SPD's commitment to expand diversity among sworn officers and better represent and identify with the Syracuse community and its citizens. 
"We (SPD) go above and beyond to recruit specific people," he said. 
Burlingame points to Lashonda Russell, a newly commissioned SPD officer featured in "They Wear Blue," as a success story out of the SPD internship program.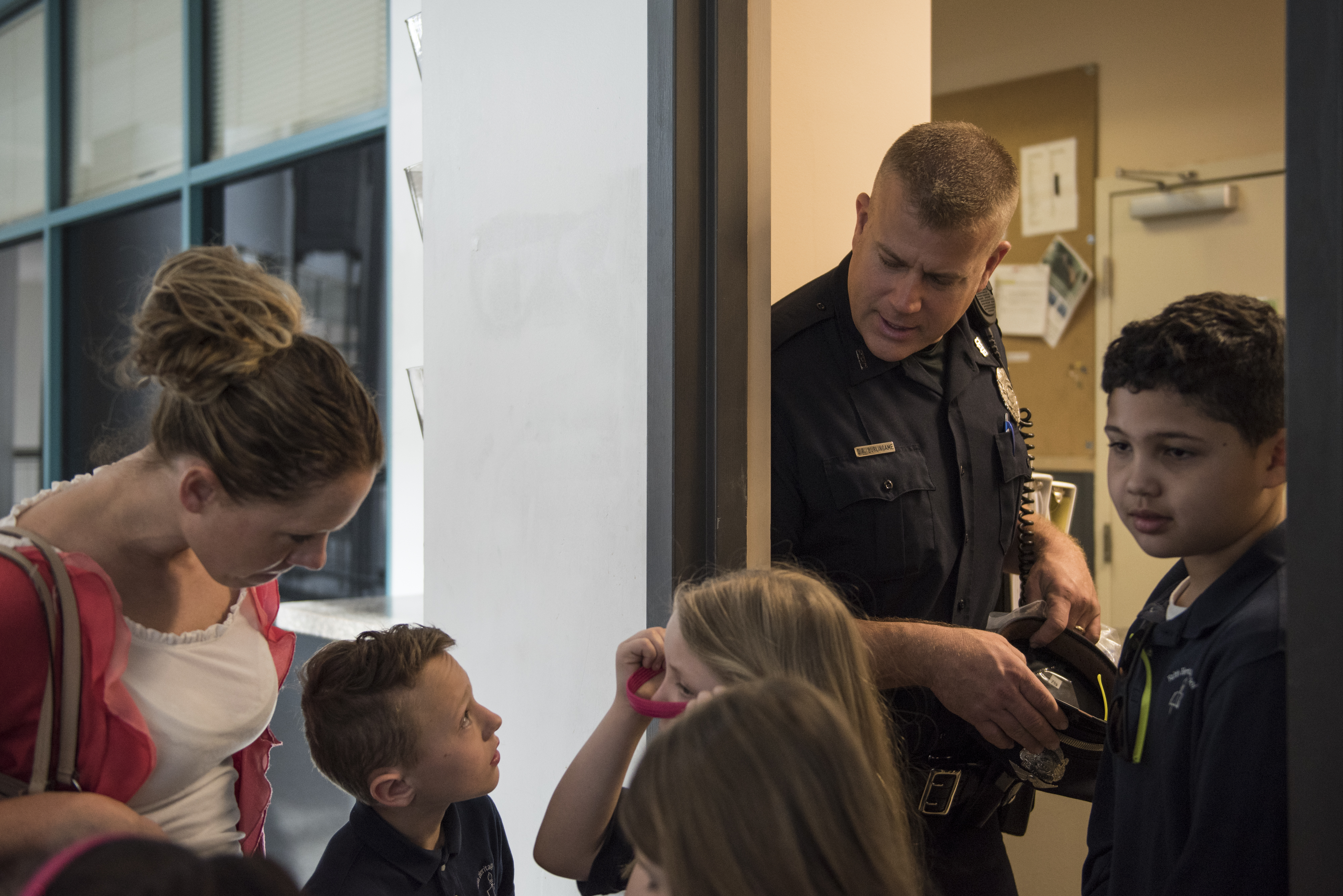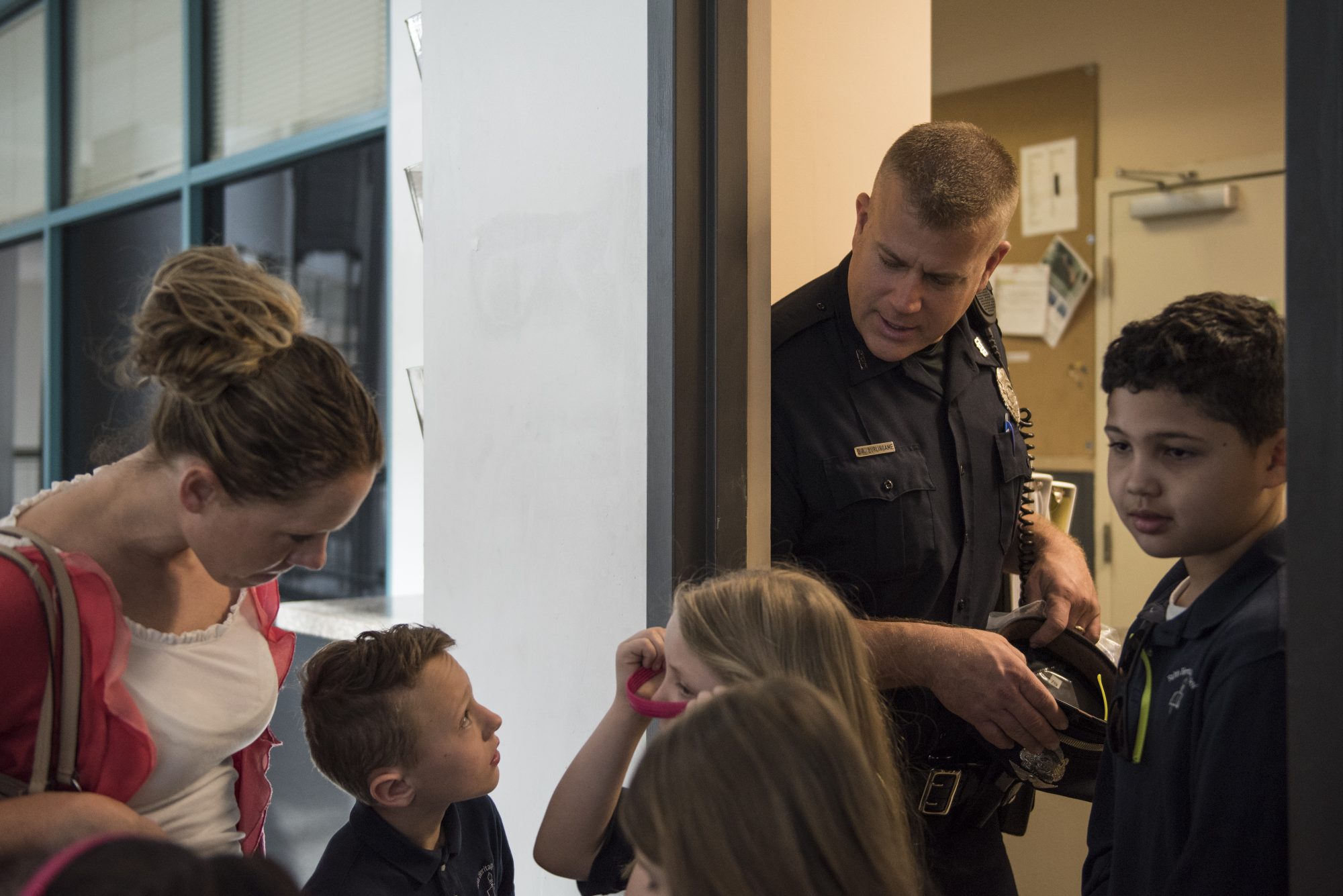 Officer Burlingame talks to one of the second graders during the field trip. He also runs the internship program for the Syracuse Police Department and works closely to mentor new officers that have recently graduated from the police academy.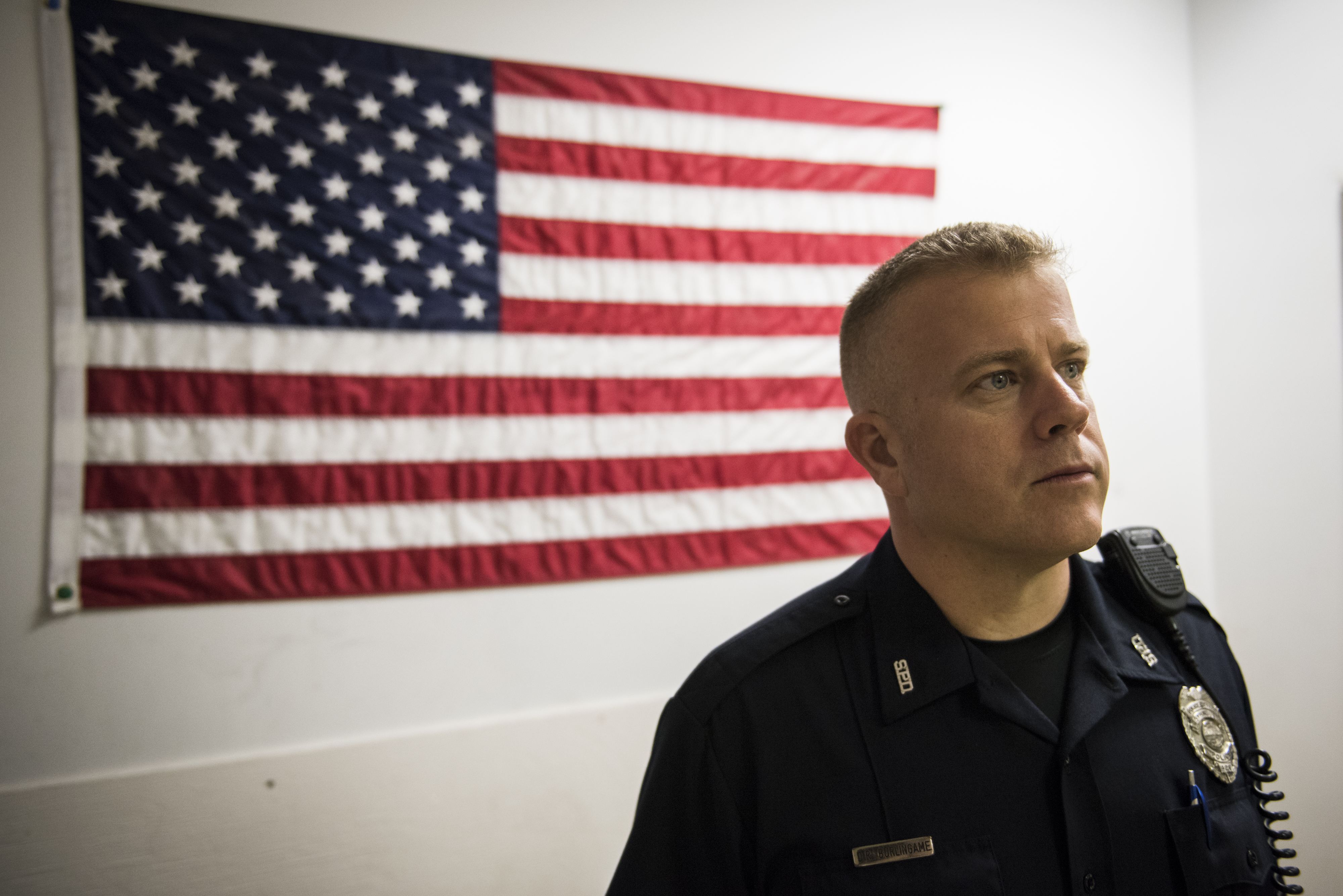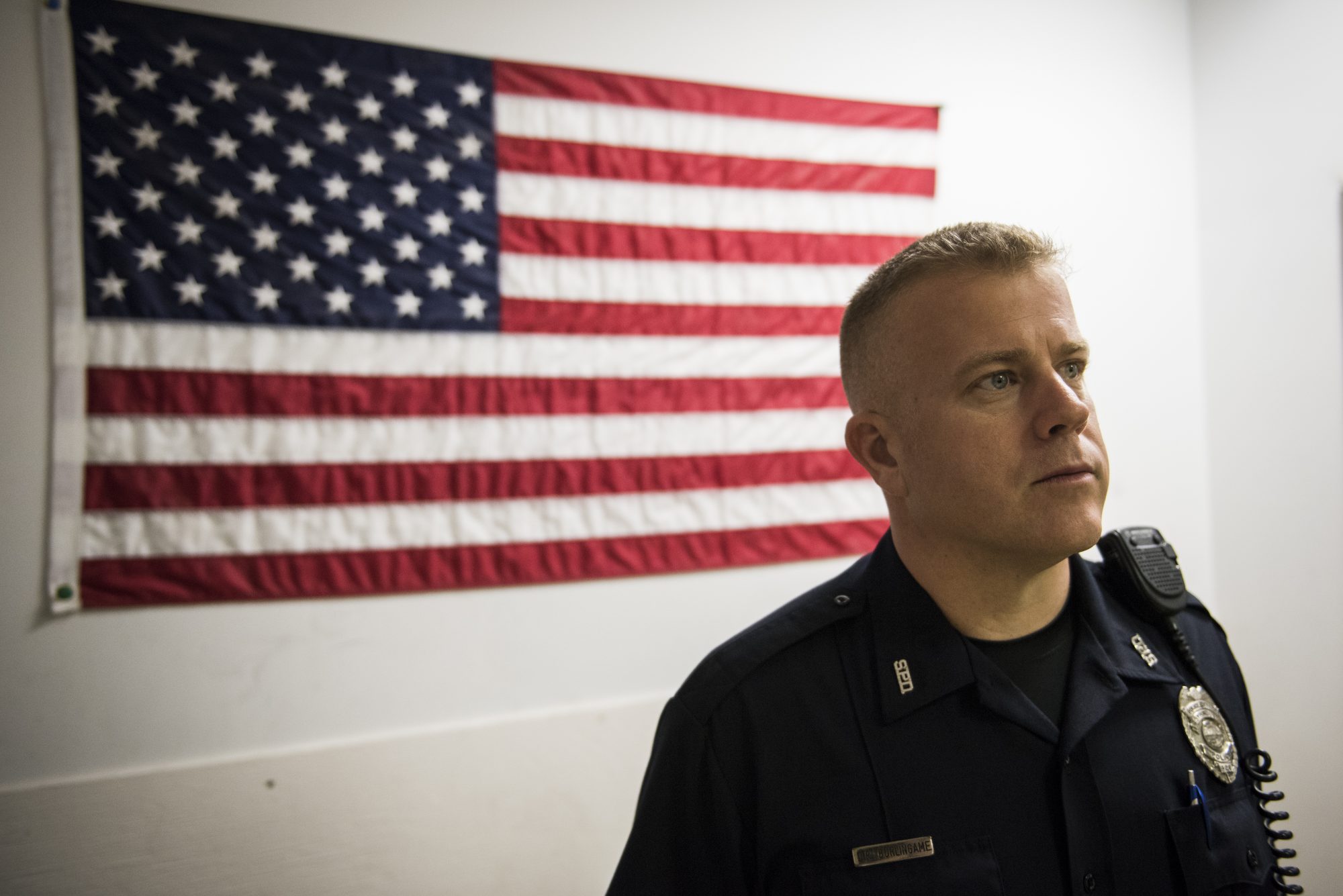 In his role, Officer Burlingame attends a range of events: from school trips to SPD sponsored community events to meeting with local gang affiliates.
A sample of police-community events
SPD holds many community-engagement events each year, including:
Student vs. Officer chess games at Southside Academy Charter School
SPD vs. Syracuse Fire Department charity basketball game
D.A.R.E. Karate Championships
Bi-weekly Southwest Community Center meetings with gang-affiliated members
Civilian Police Academy to teach residents about community policing tactics and efforts
"Coffee with the Chief" and "Shop with a Cop" events for enhanced community-department interaction
Police/Community dialogue sessions focused on various topics and issues affecting the city
Electronics recycling event to benefit Butternut Community Police Center